Marvel Comics Presents launched in 1988 as an ad-free anthology showcasing four eight-page features, stuffed inside a wrap-around cover. This guide will tell you everything you wanted to know about the series – and more!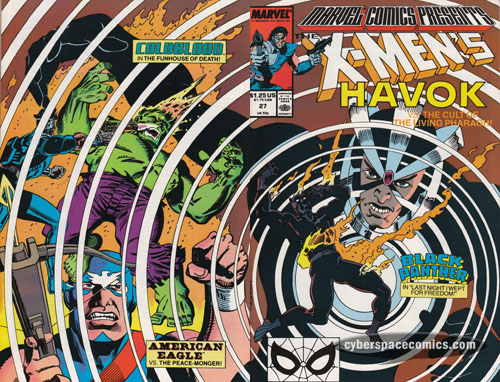 Cover Date: Early September 1989 | Cover Price: $1.25 | Cover Artist: Al Milgrom

Havok in "Pharaoh's Legacy" part 4
written by Howard Mackie
art by Rich Buckler




Havok locates the Cairo Confectioneers Warehouse and discovers the Cult of the Living Pharaoh is, indeed, there – and they've got his new girlfriend, Leila O'Toole captive. Now he has to fight his way through the Cult's enforcers – the Trackers.


Black Panther in "Panther's Quest" part 15
written by Don McGregor
art by Gene Colan




Miyo Moshigo uses the Black Panther's distraction to beat a hasty retreat but Zanti Chikane comes to the rescue! Unfortunately, during the vicious attack, a fire is loosed upon the village, ravaging Theodore Olebogeng, one of the young children.


Coldblood in "Rise and Shine" part 2
written by Doug Moench
art by Paul Gulacy




After defeating the Pursuer, Coldblood-7 reprograms it to lead him back to its controllers. Eventually, he comes to a wall and notices that his body starts to shut down. Someone wants to keep him away from this area. But who? He soon discovers a woman's voice in his head that leads him through the city maze to the controllers' base. To prevent him from invading their complex, they unleash their robotic henchmen. But, deep within the complex, the mystery woman watches and hopes that Coldblood will reach her.


American Eagle in "Just Another Shade of Hate"
written by Scott Lobdell
art by Ron Wilson




When the Knights of Saint Virgil launch an attack on Dr. Cobleskill and "the Movement", the American Eagle steps in to take down the racist villains. When he police arrive at the scene, Eagle grabs reporter Ms. Cargill and flees the scene. He attempts to convince her that Cobleskill actually hired the Knights to spark a racial conflict that would draw support to his cause. And, later, at a rally, Cobleskill is revealed as the Peace Monger, a mutant with the ability to siphon hatred and turn it into physical power. With his power, he intends to bring about peace between all men – even if he has to accomplish it by killing them all. So, it's up to the Native American hero, the American Eagle to swoop in and defeat him.
The mystery of the Coldblood story deepens and the American Eagle tale provides a wonderful insight into racial movements. It was easily my favorite of this issue's four stories.
On Ebay: Marvel Comics Presents | Havok | Black Panther | Coldblood
On AtomicAvenue: Marvel Comics Presents | Black Panther | Mutant X (aka Havok)