Marvel Comics Presents launched in 1988 as an ad-free anthology showcasing four eight-page features, stuffed inside a wrap-around cover. This guide will tell you everything you wanted to know about the series – and more!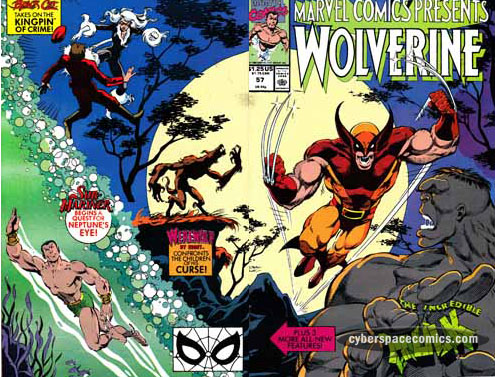 Cover Date: 1990 | Cover Price: $1.25 | Cover Artist: Dale Keown

Wolverine in "On The Road" part 4
written by Michael Higgins
art by Dave Ross



Logan wakes up in Springfield General Hospital after his seeming death at the hands of the police (in between this and last issue). Meanwhile, the Hulk is driving a car he stole right out from under the police's noses when he hears over the police band that a man has hostages holed up in a pharmaceutical factory – and the man fits Wolverine's description. Hulk rushes to the scene to confront the man who looks like Wolverine – complete with crazy hair and claws – but isn't Wolverine. However, the man hints that he and the Hulk have met in the past.


Werewolf in "Children of the Beast" part 4
written by Len Kaminski
art by Jim Fry



Layla reveals why she was referring to Jack Russell as "dad". Years ago (back in Werewolf by Night #6), she and the rest of her pack ("the Braineaters") challenged his territory. Jack, in werewolf form, tore through them – when they came to, they realized they had inherited his "blood gift". And, while Jack still hasn't accepted his lycanthropy, the Braineaters revel in it! It is this dangerous, revelry that has attracted Silver Dagger's condemnation. This embrace of evil has also turned off Werewolf by Night – as the moon rises and Jack gives into the beast, he rages against the group. And, when the moment presents itself, he runs away from the pack – an outcast among his own kind.


Sub-Mariner in "Neptune's Eye" part 1
written by Robert Denatale
art by Mike Collins



Mourning the loss of his beloved Marrina, Namor ventures near Neptune's Eye – a violent and dangerous whirlpool raging in the Atlantic Ocean. As he ponders delving into its mysteries, a nearby underwater film crew is attacked by sea beasts. Namor comes to the rescue but not in time to save Peter. He brings the survivor, Sandra, back to her base to meet with the leaders of her project. They reveal that they're part of a joint international project that has come to Neptune's Eye to determine if they can tap it as a new energy source. Sandra Rains, who was commissioned to film the project's work, convinces Namor to lead an expedition right into the eye. Unfortunately, she can't convince the rest of the project to join them – so it looks like it'll be a small team: just her and Namor.


Black Cat in "The Crown Jewel Caper"
written by Dwight Zimmerman
art by Mike Harris



The Black Cat has been hired to find the lost Crown Jewels of France but she soon discovers she's been set up as her shady dealings have landed her in hot water with the local police. She uses her physical prowess and good luck powers to get away and then figures out a way to get back at the man who set her up.
The Wolverine/Hulk feature still hasn't gotten any better but the promise of a mystery identity of the villain has piqued my curiousity. I'm still enjoying the Werewolf feature and I really dig that it ties into his previously established continuity. Sub-Mariner's story looks like it might be a neat adventure filled with a mysterious locale and strange deep sea creatures. The Black Cat story was completely forgettable and had poor, unfinished-looking art. Fortunately, the cover features work by a more accomplished artist.
On Ebay: Marvel Comics Presents | Wolverine | Werewolf | Sub-Mariner | Black Cat
On AtomicAvenue: Marvel Comics Presents | Wolverine | Werewolf | Sub-Mariner | Black Cat