You may not be surprised to learn that most people in the comic business grew up reading comic books. However, you might be interested in knowing what they were reading. Here's a look at "Famous Fanmail"!
B.S. Preston, Esquire and T. "T." Logan have had some Excellent and Bogus Adventures. You might know them better from their 1989 film as Bill and Ted. Interestingly enough, as a marketing ploy, they got a letter published in Mighty Mouse#10 (cover date – July 1991). Their series, Bill & Ted's Excellent Comic Book, debuted in December, later that year. Interestingly enough, rumor has it that the original writer has completed the script to a third Bill and Ted film as of April 2011.
Keen observers will notice that our time-traveling pals, Bill and Ted, have dated this letter August of 1992 even though it was published in July of 1991.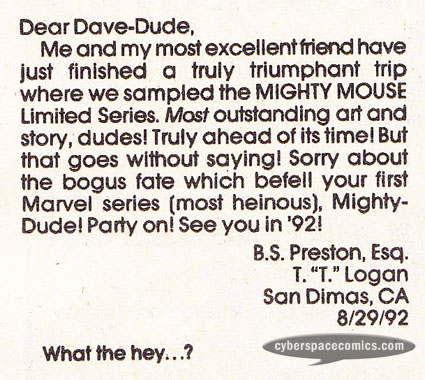 On Ebay: Mighty Mouse | Bill and Ted
On AtomicAvenue: Mighty Mouse | Bill and Ted