Not every comic writer or artist starts at the top, working on books like Batman or X-Men. In fact, most don't even start at Marvel or DC. Here's a look at some work by comic book creators … before they were stars.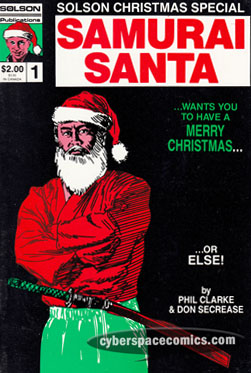 After more than twenty years in the business, the name Jim Lee is sure to conjure up many different thoughts, depending on who you are. His credits include pencilling and co-writing 1991's X-Men vol. II #1, launching Image Comics with several other creators, creating the Wildstorm Universe and most recently he was named co-publisher of DC Comics.
In the 1980s, during the indy comic boom, Solson Publications put out a strange variety of titles including Reagan's Raiders (yep. Ronald Reagan), the How to Draw Comics Comic, a Teenage Mutant Ninja Turtles Martial Arts Guide, and a book called Samurai Funnies that put a samurai slant on horror movies. In a similar vein, they produced the Solson Christmas Special starring Samurai Santa in 1986. This comic is Jim Lee's first published work, as he shares the art chores with Don Secrease. The inside front cover even has a mini-bio on Lee. Who would have imagined that five years later, he would have been part of the best selling comic of all time (X-Men vol. II #1)?