Marvel Comics Presents launched in 1988 as an ad-free anthology showcasing four eight-page features, stuffed inside a wrap-around cover. This guide will tell you everything you wanted to know about the series – and more!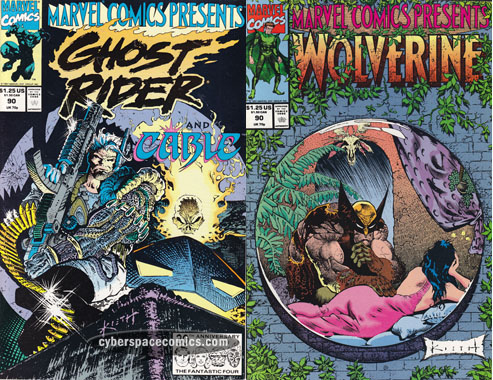 Cover Date: 1991 | Cover Price: $1.25 | Cover Artist: Sam Kieth

Wolverine in "Blood Hungry" part 6
written by Peter David
art by Sam Kieth



Tiger Tyger inquires about Cyber's involvement in Logan's past. He explains that he used to look up to the man in his youth until they had a falling out. Cyber's one of the few people to have ever beaten Wolverine. Beaten so bad that Logan still can't quite understand what happens – he recalls it all in nonsensical, symbolic dreams. Later that night, Tiger Tyger and General Coy both meet with Cyber but, he turns the deal around. He explains that intends to inject them with the drug (which will cause them to fight to the death) and then he'll take the money they've brought and establish his own criminal empire in Madripoor. But, before he can take action – Logan shows up!


Beast in "Just Friends" part 6
written by Scott Lobdell
art by Jae Lee



While the Constrictor is battling the Super-Apes, the Beast has been caged by Jennifer Nyles and Commander Courage. Courage explains that he intends to capture the scientists attending the World Symposium on Mutant Research and then turn them into Were-Borgs. As the explanation draws to a close, the Beast's sedative wears out so he's able to escape (and take Nyles with him).


Ghost Rider/Cable in "Sevants of the Dead" part 1
written by Howard Mackie
art by Guang Yap



Trekking through one of the many tunnels beneath Manhattan, Cable finds a young girl who's running away from the Grateful Undead. They catch up to her and Cable while above-ground, Dan Ketch's motorcycle calls to him – it senses that an innocent is in danger. He transforms into Ghost Rider and burrows into the tunnels to find Cable has been captured.


Nightmare in "Fangu Lives!"
written by Steve Buccelato
art by Steve Buccelato



Nightmare tells the tale of an other-worldy orb that lands on Earth. Later, it hatches and grows into the alien creature called Fangu. The alien is eventually killed by humans but, unbeknownst to them, the creature intended to transform into a human form and reveal to them the secret of space and time exploration.
It's a strange sight to see Wolverine scared of a foe – that's the case with Cyber, here. The Beast feature wasn't quite as fun as last issue but the Nightmare short reminded me of those fun "Twilight Zone"-style Marvel Monster Mags from the 1950s. Finally, the new Cable/Ghost Rider team-up is off to an uninteresting and too-coincidental start.
Note: This issue began the new MCP flip cover format.
On Ebay: Marvel Comics Presents | Wolverine | Nightmare | Beast | Cable | Ghost Rider
On AtomicAvenue: Marvel Comics Presents | Wolverine | Nightmare | Beast | Cable | Ghost Rider