During the speculator boom in the 1990s comic book market, publishers enhanced comic covers to increase sales. These gimmicks included shiny foil, holograms and even pop-ups! But, one of the coolest enhancements was the glow in the dark cover. Let's shed some light on the subject, shall we?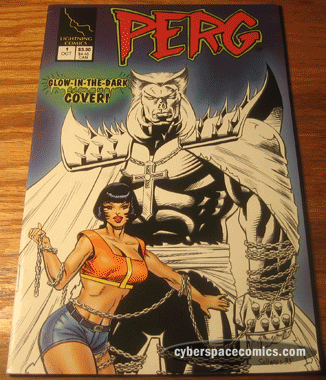 Publisher: Lightning Comics
Cover Date: October 1993
Cover Price: $3.50
Cover Artist: Saltares
Perg was one of three titles that launched the Lightning Comics line in 1993. It told the story of a corrupt policeman who was killed by the very citizens he was charged to protect in the 1800s. Perg rose the next day as a spirit for good with the ability to rid people of their evil.
The title only lasted for eight issues but it's importance in the comic industry spans far beyond that. Lightning Comics debuted Hellina in this series and she went on to have over twenty solo series and one-shots!
On Ebay: Perg