Marvel Comics Presents launched in 1988 as an ad-free anthology showcasing four eight-page features, stuffed inside a wrap-around cover. This guide will tell you everything you wanted to know about the series – and more!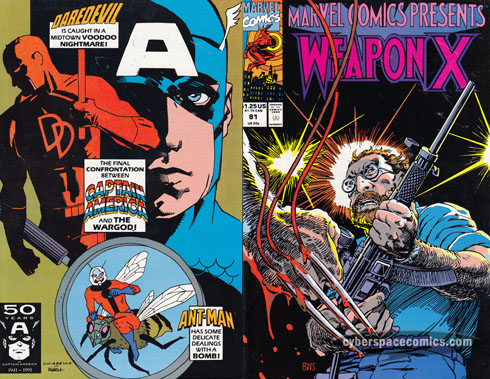 Cover Date: 1991 | Cover Price: $1.25 | Cover Artist: Barry Windsor-Smith (front); Mark Chiarello (back)

Wolverine in "Weapon X" part 9
written by Barry Windsor-Smith
art by Barry Windsor-Smith



A squad of armed men manage to remove the Professor from his lab before he's mauled to death by Weapon X. However, he doesn't escape unscathed – his hand has been sliced off! He's intercepted by Doctor Abraham Cornelius, and they run off to hide in the Adamantium Reactor Hold along with Hines. The Professor commands Cornelius to shoot Weapon X's power supply, which would shut him down. He reveals that Weapon X is currently in the control of someone else – but he won't reveal who. Meanwhile, Weapon X has decimated the squad of men and cut the power to the Adamantium Reactor's turbines. As the Reactor begins to overheat, Weapon X breaks through and comes face to face with the Professor.


Captain America in "Wargod" conclusion
written by Steve Ditko
art by Steve Ditko



Captain America comes to (after his gassing last issue by Mora) and takes on Wargod's men. After he gets through them, he comes face to face with Wargod but, he's got Senator Weason and General Hager at his mercy – trapped within a glass case hooked to lethal gas. It's up to Cap to defeat Wargod before the villain can kill the captives. And, as the battle draws to a close, the villain's helmet is knocked off … revealing Mora, the General's daughter.


Ant-Man in "Time Bomb"
written by Dana Moreshead
art by James Fry



Ant-Man's been called in to defuse a bomb planted by terrorists. Shrinking down to ant-size, he's able to get inside the bomb to disconnect the wires. Unfortunately, he steps on a floor failsafe and, if he shifts his weight off, it'll trigger the bomb! So, he enlists the aid of some local ants to get out of the jam.


Daredevil in "the Call"
written by Robert Denatale
art by Marshall Rogers



Tony and Bruno have been hired to intimidate Audrey and her Gra'ma to leave their home. They're the only two remaining in a tenant building that the owner wants to demolish. Gra'ma believes herself to be a powerful witch – so, later that night she casts a spell to summon a demon to protect her and her granddaughter from the enforcers. When Daredevil shows up to save the day, she's still convinced that her magic worked and that DD is the demon she summoned to protect her.
The mystery of who the Professor is working with continues as the Weapon X action heats up. Ditko's Cap tale concluded and I'm still quite confused by the motivation of all these characters. Too much exposition and too many new characters … only 16 pages. It just didn't work for me. Although, I must point out that Ditko's artwork actually looks decent here, enhanced by Terry Austin's inking. It was nice to see the spotlight shine on Ant-Man II (Scott Lang) – a character who doesn't get much solo limelight. It was a fun, small-scale adventure with wonderful artwork. The Daredevil story had a fun hook … but, at the same time, it kind of makes you feel bad for the senile old woman. It's kind of cool when a story can inspired two conflicting emotions like that.
On Ebay: Marvel Comics Presents | Wolverine | Captain America | Ant-Man | Daredevil
On AtomicAvenue: Marvel Comics Presents | Wolverine | Captain America | Ant-Man | Daredevil