Marvel Comics Presents launched in 1988 as an ad-free anthology showcasing four eight-page features, stuffed inside a wrap-around cover. This guide will tell you everything you wanted to know about the series – and more!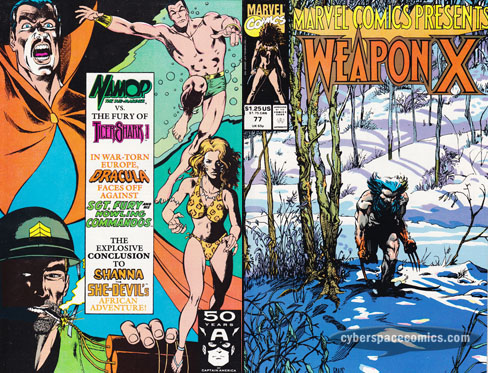 Cover Date: 1991 | Cover Price: $1.25 | Cover Artist: Barry Windsor-Smith (front); Larry Alexander (back)

Wolverine in "Weapon X" part 5
written by Barry Windsor-Smith
art by Barry Windsor-Smith



Testing their new creation, the Professor has Logan sent out into the snow-covered, Canadian woods with a pack of hungry wolves on his trail. Weapon X displays to his onlookers that he's the ultimate killing machine, as he massacres the entire pack of animals. When the damage has been done, the hits a trigger that shuts Logan down. An important part of any weapon, naturally, is having the ability to deactivate it.


Shanna in "The Bush of Ghosts" conclusion
written by Gerard Jones
art by Paul Gulacy



As Shanna enters Sir Guy Cross-Wallace's complex, it has become apparent that his followers have lost faith in him. The final battle is left between the two of them – and Shanna comes up the victor. Now, even though Cross-Wallace is no longer alive – there are still many problems facing Africa. Unfortunately, Shanna just doesn't have all the solutions … but she's willing to work for them.


Sgt. Fury/Dracula in "Rumanian Rumble" part 1
written by Doug Murray
art by Tom Lyle



Dracula awakens from his coffin in Late July 1942 to discover his servants have been killed by invading Nazis. From his castle, he sees the newly constructed Nazi camp that has captured his people – the gypsies. But, he cannot penetrate their walled-in camp – he must be invited in. And, their Swastika is a holy symbol … a dangerous weapon against a vampire. He'll need help if he's to defeat these invaders.

Meanwhile, Nick Fury is sent on a mission to blow up the Nazis' largest oil supply in the town of Ploesti, Romania. He and his Howling Commandos parachute down into the Nazi-occupied town – the very same village that Dracula has been watching.


Sub-Mariner in "the Tides That Bind"
written by Robert Campanella
art by Grant Miehm



Dr. Barnabus Lucian Cross believes that sharks contain the cure for cancer – and what better specimen to study than the shark/humanoid, Tiger Shark? He hires Mr. Dice and his men to capture the super-villain. In a curious move, Namor the Sub-Mariner comes to the aid of his long-standing enemy.
This issue we get a taste of Wolverine's bestial nature and Shanna's story draws to a rather anti-climatic end. Although, Nick Fury and Dracula have yet to meet – the set up is rather well done. And, finally, Namor's story raises some interesting questions about his relationship with Tiger Shark.
On Ebay: Marvel Comics Presents | Wolverine | Sub-Mariner | Shanna | Nick Fury | Dracula
On AtomicAvenue: Marvel Comics Presents | Wolverine | Shanna | Nick Fury | Dracula | Sub-Mariner