Marvel Comics Presents launched in 1988 as an ad-free anthology showcasing four eight-page features, stuffed inside a wrap-around cover. This guide will tell you everything you wanted to know about the series – and more!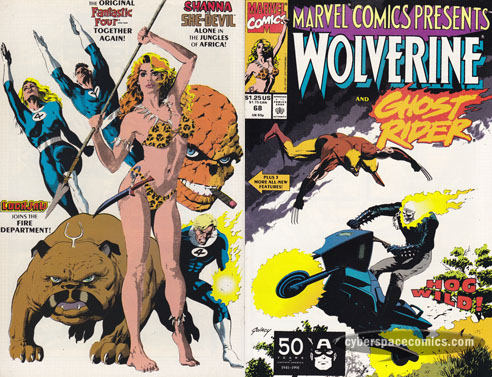 Cover Date: 1991 | Cover Price: $1.25 | Cover Artist: Paul Gulacy

Wolverine in "Acts of Vengeance" part 5
written by Howard Mackie
art by Mark Texeira



Wolverine, Ghost Rider and Brass take on Deathwatch's goons in the hopes of rescuing Brigitte (Brass's sister) and Jack (Ghost Rider's friend).


Shanna in "The Bush of Ghosts" part 1
written by Gerard Jones
art by Paul Gulacy



In London, Shanna discovers that some hippos and rhinos have been killed solely for their ivory – and, she has a feeling that she knows who did it.


Fantastic Four in "Dark Dimensions" conclusion
written by Robert Denatale
art by Tom Morgan



All the original members of the Fantastic Four are reunited in this issue. Using their powers together, they're able to free the Exile from the web of energy he was trapped within.


Lockjaw in "Sparky the Wonder Dog"
written by Scott Lobdell
art by Jose Delbo



Lockjaw helps a local policeman rescue some homeless people from a burning building.
The Wolverine/Ghost Rider feature seemed like a waste of eight pages … and the Lockjaw story fell flat, too. The Fantastic Four concluded this issue but it was quite anti-climactic. Although, it should be noted that reuniting the original team was kind of a special event since, at this point, the Fantastic Four series was devoid of Mr. Fantastic and the Invisible Woman (they had temporarily retired). Finally, it's nice to see Shanna get a little limelight. With art by Paul Gulacy, it's sure to look good so I'm just hoping that Jones has a good story cooked up.
On Ebay: Marvel Comics Presents | Wolverine | Fantastic Four | Shanna | Inhumans
On AtomicAvenue: Marvel Comics Presents | Wolverine | Fantastic Four | Shanna | Inhumans