Marvel Two-In-One launched in 1974, teaming the Thing with a different hero each month. This guide will tell you everything you wanted to know about the series – and more!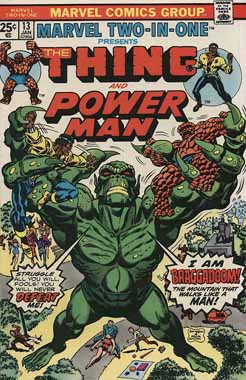 Publisher: Marvel Comics
Cover Date: January 1976
Cover Price: 25¢
Writer: Roger Slifer with Len Wein
Artist: Ron Wilson
WHO stars in this issue?
the Thing – Benjamin J. Grimm was bombarded by cosmic rays in a space exploration flight, alongside three friends. The cosmic rays gave each of them different powers, and they formed the Fantastic Four. Ben underwent the most physical change of the foursome: his skin mutated into orange rock and, as a result, he gained super-strength.
Power Man – A freak accident left Luke Cage with super-strength and near-impervious skin. He started his super-hero career as a Hero For Hire.
WHAT happens?
Arnold Krank is a biological researcher at Krasner's Bio-Systems, Inc. and his special bio-genetics project created life! The green, modified cellular tissue began to grow out of control and, after absorbing two men, took on a humanoid form. He sought out the Fantastic Four to help contain the creature but only the Thing was available. And, when Ben Grimm wasn't enough to stop it, Krank hired Power Man to join in on the effort.
By the time Power Man had arrived on the scene, the creature had grown large enough to hold the Thing in its hand. It was continuing to grow both physically – and mentally. It's intelligence soared! (But not high enough to realize that naming yourself Braggadoom, after a recent onomatopoeia, was pretty silly) The monster easily defeated both heroes and tossed them blocks away.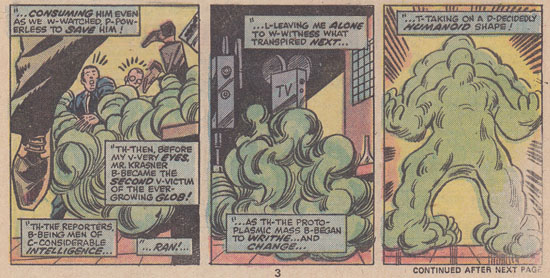 When Power Man and the Thing finally make their way back to the monster, Braggadoom has grown to 300 feet – and destroyed a New York bridge. Sinking to the bottom of the ocean floor, the Thing manages to topple the monster but, before he can deliver a forceful blow, he's stopped by … Power Man?! Y'see, Luke Cage has been warned by Krank that Braggadoom may be building towards critical mass and a continued assault on the creature could explode it, unleashing the destructive power of a nuclear bomb! As they debate about whether to strike against the monster … it begins to glow! Could they be too late?
Nahhhh … it's just a false alarm! Actually, the creature expended enough energy during the past few hours to reduce it back to the size of a toy. Expecting the creature to grow and mature in the future, Arnold Krank devotes his life to raising his "son" in a responsible manner.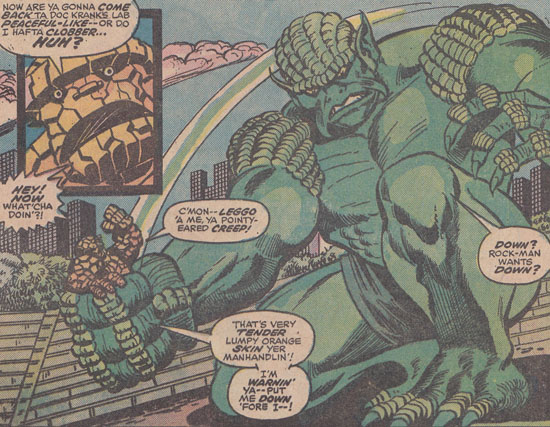 WHERE does the story take place?
This month's destructive rampage takes place in New York City!
WHEN does the villain next appear?
This lame-named villain has never appeared again.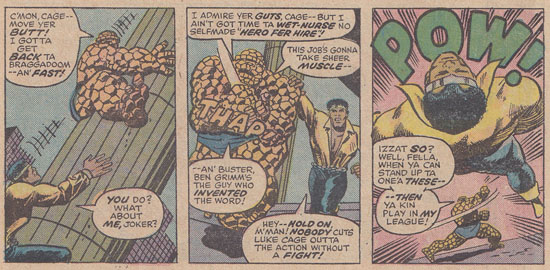 WHY is Power Man the guest-lead?
When the title of Luke Cage's series changed from Hero For Hire to Power Man, Len Wein took over as writer. His run on that series ended 15 months prior to this issue and featured artwork by Ron Wilson. That very same creative team reunited with each other and the Luke Cage character in this issue.
HOW was it?
As terrible as Braggadoom's name is – he's still a neat villain. I say that because I've got a soft spot for giant-sized characters. The scope of the battle scenes that include huge characters like this is almost always on a grand scale – and this issue is no exception. Even the cover is just eye-catching!
There's also a lot of fun interaction between the Thing and Power Man. These guys aren't quite the best of friends and it shows – Grimm tries to leave Cage out of the fight at one point, assuming he's not powerful enough to help out. The Thing's point is actually proven right: when Power Man isn't able to topple the monster, Grimm has to do it himself. But, it should be pointed out that toppling Braggadoom was Power Man's idea, in the first place. This interesting dynamic continued to play out two months later in Fantastic Four #168, when Power Man temporarily replaced the Thing.
Note: This issue's letters column features commentary on Marvel Two-In-One #11. Additionally, this comic includes Marvel Value Stamp [Series B] #11 (part of the Conan the Barbarian puzzle).
On Ebay: Marvel Two-In-One | the Thing | Power Man
On AtomicAvenue: Marvel Two-In-One | the Thing | Power Man