Marvel Comics Presents launched in 1988 as an ad-free anthology showcasing four eight-page features, stuffed inside a wrap-around cover. This guide will tell you everything you wanted to know about the series – and more!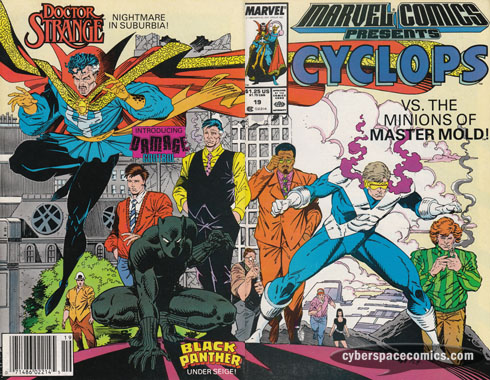 Cover Date: May 1989 | Cover Price: $1.25 | Cover Artist: Rob Liefeld

Cyclops in "the Retribution Affair" part 3
written by Bob Harras
art by Ron Lim




Master Mold reveals to his hypnotized captive, Moira Mactaggert, that he is actually Stephen Lang – a human mind trapped within the Sentinel robot, after Cyclops destroyed his mortal body. His companion computer, Conscience, discovers that Sean Cassidy has contracted the mutant-killing Retribution Virus that Master Mold made Moira create. Late in the night, Master Mold dispatches his Servitors to capture the virus-stricken Sean Cassidy (aka Banshee) and Mary Campbell (a young telekinetic). Their large numbers are too many for even Cyclops to stop them all!


Black Panther in "Panther's Quest" part 7
written by Don McGregor
art by Gene Colan




In this issue, we're introduced to Sarah Slade, wife of Patrick Slade (the informant that lured Black Panther to South Africa on promises of news about his mother). The Black Panther ventures to the Slades' artifact shop after thanking Zanti for his help and setting him loose from any obligation he might feel to continue helping. But, on his way home, Zanti discovers a militia man on the lookout and can't keep himself from getting involved on the Panther's behalf. And, while the Panther converses with Sarah Slade, the militia unleashes tear gas upon the area.


Dr. Strange in "Nightmare in Suburbia" part 1
written by Fabian Nicieza
art by Mark Badger




Doctor Strange travels to Minerva, Ohio to rid Mary Windhart's home of the demon infestation that she is somehow unaware of. And, after defeating her infested son, Bobby – the husband arrives home … and he's not looking too healthy, either.


Damage Control in "Overture"
written by Dwayne McDuffie
art by Ernie Colon




After the super-heroes and villains destroy the city during their battles … who cleans up the mess? Why, Damage Control does! Rival super-clean-up broker, John Porter, is looking to horn in on their business, though. His latest stop is Josie's Bar, where Daredevil and Turk are battling it out. After the bar gets leveled by a grenade, Damage Control steps in and replaces it near-instantly! Mrs. Hoag catches up with the ambitious Porter and offers him a job with Damage Control as Account Executive. Needless to say, his story is continued in the first Damage Control mini series (issue #1 also a cover date of May 1989).
This is it! The first appearance of Damage Control. Now, it's not a mainstay title but, they've had four mini series over the years so they do have some importance in the Marvel Universe. Topping off this issue is a cover by Rob Liefeld (who had not yet exploded due to the Image boom).
On Ebay: Marvel Comics Presents | Cyclops | Black Panther | Doctor Strange | Damage Control
On AtomicAvenue: Marvel Comics Presents | Cyclops | Black Panther | Doctor Strange | Damage Control