Marvel Comics Presents launched in 1988 as an ad-free anthology showcasing four eight-page features, stuffed inside a wrap-around cover. This guide will tell you everything you wanted to know about the series – and more!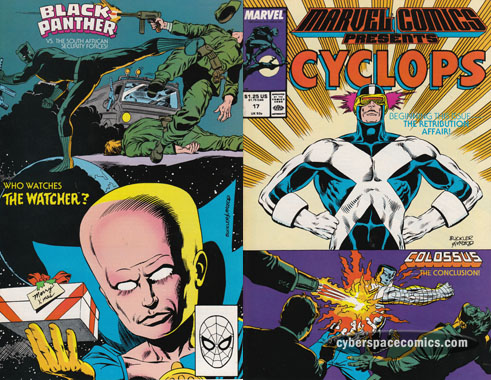 Cover Date: Late April 1989 | Cover Price: $1.25 | Cover Artist: Rich Buckler with Bob McLeod

Colossus in "God's Country" conclusion
written by Ann Nocenti
art by Rick Leonardi




Colossus rushes back to Bruce and his family. Now that the Cold Warriors have relented their attack, the family has an opportunity to speak with the press. But, Colossus knows that none of this will ever make the papers because the government doesn't want it to get out.


Black Panther in "Panther's Quest" part 5
written by Don McGregor
art by Gene Colan




Percy Boraine, one of two approaching soldiers, has his gun aimed right for the Black Panther and his new-found friend, Zanti Chikane. The responsibility of soldier life weighs heavily upon him – he'd rather be almost anywhere – and certainly would prefer to be with his beloved Cynthia. In a swift move, the Panther unarms both men and hijacks their army vehicle.


the Watcher in "Do You See What I See?"
written by Scott Lobdell
art by Tom Sutton




A cosmic being calling himself one of the Three Wise Men intends to capture the Earth and use it as a birthday gift for another powerful entity. But, before he has a chance to remove Earth from its orbit (destroying mankind), the Watcher breaks his solemn oath and interferes. He bids the Wise Man to pause and allow for the opportunity for the Watcher to show him why humanity should be spared.


Cyclops in "the Retribution Affair" part 1
written by Bob Harras
art by Ron Lim




An old friend, Banshee, summons Cyclops to Muir Island where he's attacked by a mechanized firing squad. He sees Moira walking by, as if in a daze, and then he's knocked out by a sonic blast. Later, after coming to, he meets with Sean and Moira who claim to know nothing of the prior events. He tells them of the attack but when they go back to look at the destruction from last night's battle, they find no evidence. Everything is back to the way it had been!
This entire Colossus story was later collected into a prestige format one-shot. It's an interesting story that's much more than just your average super-hero story. Beneath the steel skin and bullet-dodging, there's an interesting comparison between Russia's government and ours. The story illustrates that Russian's know how much control their government has but in America, we feel that we're very free – even though the government actually has more control than we'd like to think. It's much more thought-provoking than it is entertaining. But, that's a good thing!
Longshot's dreamwalking story was pretty bland but the Ka-Zar short had a little more bite with its social commentary. The prim and proper Lemurians wanted to kill the child while the low-society Swamp Men welcomed it with open arms.
The Watcher's tale is told in a rhyme invoking the style of 'Twas The Night Before Christmas. It would make for a fun Christmas story to share with your children.
On Ebay: Marvel Comics Presents | Colossus | Black Panther | the Watcher | Cyclops
On AtomicAvenue: Marvel Comics Presents | Colossus | Black Panther | Cyclops