With years spent reading single issues here and there, juggling storylines of dozens of titles, I decided it was time to find a better way to read comics. So, it was off to the back issue bins armed with the longest want list you've ever seen! Putting together series after series and reading them in their complete goodness, I was reborn as the Retro-Reader!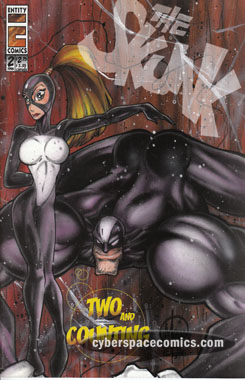 Publisher: Entity Comics
Number of Issues: 6
First Issue: May 1996 ($2.75)
Last Issue: October 1996 ($2.75)
Writer: Bill Maus
Artist: Bill Maus
*Warning! Plot Spoilers Below*
The Skunk is a muscle-bound super hero with super-strength and an ability to produce incredibly forceful flatulence! On patrol in New York City, he rescues a young woman named Macy from the Sticky-Boys. The two become quickly inseparable, and Macy dons a costume to join the Skunk as his sidekick (although she doesn't have any powers). They manage to halt the Roll's plan to gain control of NYC's toilet paper roll supply and then embark on trips to the country, the golf course, and other places where the Skunk unwittingly defeats thieves, aliens and other dastardly villains.
The Bad: Despite lasting for six issues, nothing really happens. There's little to no character development and no real mysteries or questions are raised (except for the landlord with the x-ray vision).
the Good: Bill Maus' artwork is his strength. Macy's got a sleek look to her and the Skunk has a cool, hulking physique. There's plenty of silly action here to keep it light and fun!
The Verdict: If you're looking for fun, high-energy action with very nice artwork (and a side of flatulence) … then this is the comic for you! However, if characterization is your cup of tea, then you should move along to another part of the comic store (perhaps towards the Waiting Place or Strangers in Paradise).