Marvel Comics Presents launched in 1988 as an ad-free anthology showcasing four eight-page features, stuffed inside a wrap-around cover. This guide will tell you everything you wanted to know about the series – and more!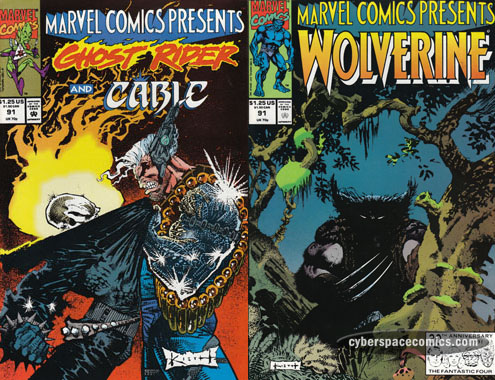 Cover Date: 1991 | Cover Price: $1.25 | Cover Artist: Sam Kieth

Wolverine in "Blood Hungry" part 7
written by Peter David
art by Sam Kieth



Tiger Tyger faces off against General Coy while Wolverine battles with Cyber.


Beast in "Just Friends" part 7
written by Scott Lobdell
art by Jae Lee



The Beast (and Jennifer Nyles, with him) discovers that Commander Courage has designs to turn notable powerful beings (such as Tony Stark and Victor Von Doom) into Were-Borgs under his control. Nyles is now convinced to aid the Beast in defeating Commander Courage and she reprograms the Super Apes to join them. Meanwhile, elsewhere in Courage's base, the Constrictor rescues the Red Ghost from a group of Were-Borgs.


Ghost Rider/Cable in "Sevants of the Dead" part 2
written by Howard Mackie
art by Guang Yap



Ghost Rider frees Cable and the two of them pursue the Grateful Undead in order to rescue the young girl who was taken by them. In their pursuit, they dare to cross a rickety bridge that gives way. The Grateful Undead seem to think it will drop our heroes into the very center of the Earth!


Impossible Man in "Truth or Daredevil"
written by Dave Manak
art by Dave Manak



Searching for his missing son, the Impossible Man ventures into Hell's Kitchen, New York and interrupts a meeting between Daredevil and the Kingpin.
The Wolverine story was a visual treat! The Beast feature got a little hoaky to suggest that this lame-o villain Commander Courage might actually have a chance of subjugating Marvel heavies like Iron Man and Doctor Doom. Ghost Rider/Cable is still quite bland and the Impossible Man short was fun in an all-ages kind of way. I wouldn't consider it part of continuity, though.
On Ebay: Marvel Comics Presents | Wolverine | Nightmare | Beast Cable | Ghost Rider | Impossible Man
On AtomicAvenue: Marvel Comics Presents | Wolverine | Nightmare | Beast | Cable | Ghost Rider | Impossible Man