Marvel Comics Presents launched in 1988 as an ad-free anthology showcasing four eight-page features, stuffed inside a wrap-around cover. This guide will tell you everything you wanted to know about the series – and more!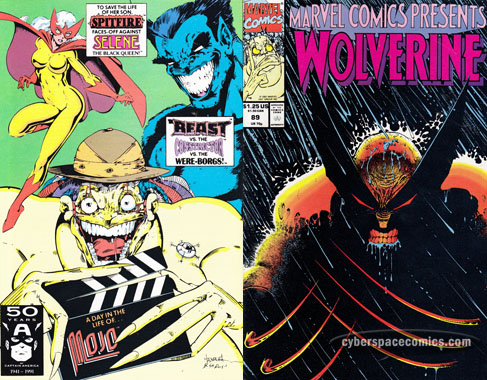 Cover Date: 1991 | Cover Price: $1.25 | Cover Artist: Sam Kieth; Joe Madureira (back)

Wolverine in "Blood Hungry" part 5
written by Peter David
art by Sam Kieth



After her meeting with Cyber, Tiger Tyger sets out to find Wolverine – he's gone missing ever since Cyber infected him with a hallucinagenic drug. As he comes to – she reveals that she did, in fact, make a deal with Cyber for the drug shipments – even though she really didn't want to. Afterwards, we see Cyber making a deal with General Coy – Tiger Tyger is sure to disapprove when she finds out.


Beast in "Just Friends" part 5
written by Scott Lobdell
art by Jae Lee



The Beast seeks out the Constrictor and reveals that he thinks he was set up. After all, why would the Red Ghost hire him to kill the Beast? The Red Ghost is typically a Fantastic Four villain – and hasn't encountered the Beast. Constrictor confirms that he never actually met with the Red Ghost – just that he was told that's who was paying for the hit. So, the Beast convinces the Constrictor to join him in his quest for answers. The two of them then have to fight their way through a squad of Were-Borgs in to the Belgian Ministry of Defense (that's where the Red Ghost is being kept – in ill health). After they dispatch those goons, they split up. The Beast finds Jennifer Nyles – and she pulls a gun on him!


Spitfire in "Young Blood"
written by Dan Slott
art by Rita Fagiani



After receiving a second transfusion of blood from the original Human Torch (in Namor the Sub-Mariner #12), Spitfire's body has reverted biologically back 48 years! It's a strange mutant power – to have regenerative blood that is triggered by the addition of synthetic blood. Blood that Selene (the Black Queen) wants! After all, Selene is an "energy vampire" – she has to kill others to maintain her youth. To that end, she's kidnapped Spitfire's son in an effort to gain access to her body. She intends to vivisect the heroine in order to duplicate the process – a far simpler task than having to kill someone every time, I suppose. Naturally, Spitfire doesn't want that to happen so she figures out a way to defeat Selene and rescue her son.


Mojo in "What's Wrong With This Picture?!"
written by Dan Slott
art by Joe Madureira



Mojo's media empire's ratings have plummeted – a competitor has been luring away the audience with documentaries. Minor Domo suggests that they create a documentary to stay relevant (and, more importantly, in business). So, Mojor sets out to capture the X-Men in their natural habitat. Turns out, it's pretty boring watching them live a normal day. When they get back, they realize that the camera was facing the wrong way – the X-Men were never even filmed. But, what it did capture saves the day – it becomes a hit show!
Lots of good stuff here, folks. A Sam Kieth cover and very early work by Joe Madureira (and Dan Slott, too). I'm curious to see how this double-deal Cyber's planning unfolds. The Beast story is really fun! I certainly did not see a Beast/Constrictor team-up coming … but I like it! Spitfire was this issue's low point but the Mojo story was silly and fun (in that special Mojo-way).
On Ebay: Marvel Comics Presents | Wolverine | Spitfire | Beast | Mojo
On AtomicAvenue: Marvel Comics Presents | Wolverine | Spitfire | Beast