Marvel Comics Presents launched in 1988 as an ad-free anthology showcasing four eight-page features, stuffed inside a wrap-around cover. This guide will tell you everything you wanted to know about the series – and more!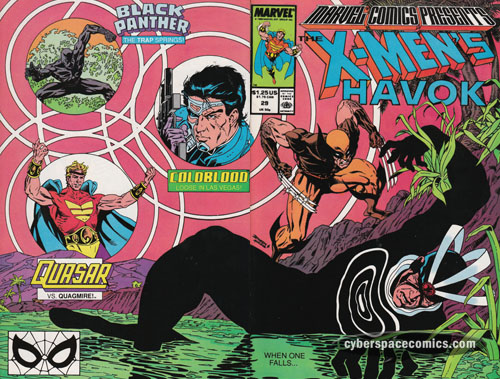 Cover Date: Early October 1989 | Cover Price: $1.25 | Cover Artist: Dennis Jensen

Havok in "Pharaoh's Legacy" part 6
written by Howard Mackie
art by Rich Buckler




Drained from his battle with the Trackers, Havok escapes from the Cult of the Living Pharaoah. Days later, just as Leila was hunted down, the Cult has now come after Havok. But, this time, Wolverine has found him, too, and joins the fight to protect his fellow X-Man.


Black Panther in "Panther's Quest" part 17
written by Don McGregor
art by Gene Colan




The Black Panther sits on a hillside and reflects upon the past few days as he has had plenty of trials in his search for his mother. Zanti Chikane breaks him from his daydreaming to remind him of his appointment to meet with the informant, Patrick Slade. But when the meeting takes place, it's ambushed by a murderous soldier!


Coldblood in "Rise and Shine" part 4
written by Doug Moench
art by Paul Gulacy




Freed of his internal blocks, Coldblood-7 takes his car barrelling through the wall, that was previously unbreachable, and outside the city! He finds himself in a desert, and the city that he had come to know was only a mock-up of a small portion of Manhattan. Now that the target has escape the maze, Mako has sent his forces to kill Coldblood – no restraint necessary. Meanwhile, the cyborg has found his way to Las Vegas, Nevada. The assassin-bot disptached by Mako leads Coldblood on a deadly chase through the city of sin!


Quasar in "It Came From Within…"
written by Mark Gruenwald
art by Paul Ryan



An energy disturbance in Florida leads Quasar to Jennifer Kale and a sickly looking Man-Thing. The young woman asks for the cosmic hero's help to save the guardian of the Nexus of Realities. It seems the swamp creature has been infected by a strange, black goop that has infected it and continued to grow inside its body. Quasar preforms a "c-section" on the pregnant-looking Man-Thing to release him from what is growing inside. Once the operation is done, a fully-grown man is released from the Man-Thing's body. The man inside, Quagmire, seems to have villainous intentions and launches an attack on Quasar and Kale. After knocking the villain out, Kale reveals that Quagmire is from the Squadron Supreme of an alternate Earth and Quasar hauls him off (presumably to the Vault).
Although it doesn't plug the ongoing series that was released the very same month, this issue's Quasar short was a prequel to his title. It's even by the same writer and artist. And, it's neat to see that the writer utilized another of his creations, Quagmire of the Squadron Supreme. As for the Havok featured, I'm a litle disappointed to find that either the writer or Marvel didn't have enough faith in him to hold down his own feature. Nope. They had to go and bring Wolverine in. Although, to be fair, there is some basis for a Wolverine/Havok team-up story since their Meltdown series was published in the previous year.
On Ebay: Marvel Comics Presents | Havok | Black Panther | Coldblood | Quasar
On AtomicAvenue: Marvel Comics Presents | Black Panther | Mutant X (aka Havok) | Quasar