Marvel Comics Presents launched in 1988 as an ad-free anthology showcasing four eight-page features, stuffed inside a wrap-around cover. This guide will tell you everything you wanted to know about the series – and more!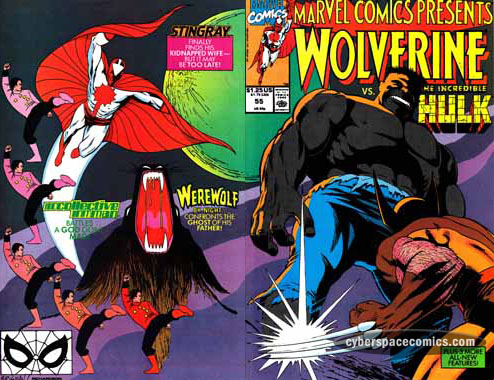 Cover Date: 1990 | Cover Price: $1.25 | Cover Artist: June Brigman

Wolverine in "On The Road" part 2
written by Michael Higgins
art by Dave Ross



Thinking that the Hulk has the size advantage, Wolverine launches into an attack. And, after a quick romp through the woods, the two discover that they're really fighting over nothing. They split a meal in the forest and then return to the nearest town. Bruce Banner starts to hitch a ride but Wolverine is stopped by the nearby gas station attendant who suspects Logan is a wanted murderer.


Werewolf in "Children of the Beast" part 2
written by Len Kaminski
art by Jim Fry



The next morning, Jack Russell decides he needs to do something about his lycanthropy. He trades a patch of his werewolf fur to his pal, Zontar, in return for Lemarchand's Mourning Call. Within the parcment lies a powerful spell that he hopes will cure his curse. Using the spell, he calls forth the spirit of his father who reveals that he cannot bid rid of the werewolf. However, he does reveal that lycanthropy can be honed so that a finer balance can be struck between man and wolf. And, as his dad's spirit departs, Isaiah Curwen (the Silver Dagger) kicks in Jack's door!


Stingray in "Family Matters" part 3
written by Len Wein
art by Jim Fern



Stingray finds his wife and her kidnapper (her brother, Tiger Shark) in a cavern formerly used as a headquarters by Doctor Dorcas. Unfortunately, during their battle, part of the cave collapsed – on Diane!


Collective Man in "The Sons of Mary Tao-Yu"
written by Scott Lobdell
art by Greg Laroque



The Collective Man's request to leave his military base was denied – so he highjacked a helicopter and made his escape to visit his dying mother. Moments after he arrives, Ho Ti (the self-proclaimed god of happiness) shows up to take the Collective Man back to his superiors. But, the Chinese hero's love for his mother overcomes Ho Ti's commands.
Unfortunately, the only feature that really caught my interest was the Werewolf by Night tale. The other three were pretty bland – although it was neat to see the Collective Man featured in his own solo story. The Wolverine/Hulk story seems to be all over the place (and not in a good way) and it's really hard for me to believe that Stingray can survive a one-on-one fight against the crazed killer, Tiger Shark – let alone hold his own.
On Ebay: Marvel Comics Presents | Wolverine | Werewolf | Stingray | Collective Man
On AtomicAvenue: Marvel Comics Presents | Wolverine | Werewolf