Marvel Comics Presents launched in 1988 as an ad-free anthology showcasing four eight-page features, stuffed inside a wrap-around cover. This guide will tell you everything you wanted to know about the series – and more!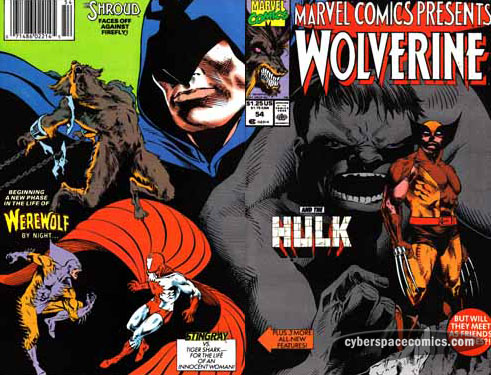 Cover Date: 1990 | Cover Price: $1.25 | Cover Artist: Dave Ross

Wolverine in "On The Road" part 1
written by Michael Higgins
art by Dave Ross



The rest of the world thinks the X-Men are dead but Wolverine knows better and he's ventured to the Carolinas to find them. On the road, he rescues a man from a bear attack but the ungrateful man wanders off into the woods. Wolverine decides he can't leave the man alone so he chases after him to discover .. the Hulk!


Werewolf in "Children of the Beast" part 1
written by Len Kaminski
art by Jim Fry



Jack Russell (the Werewolf by Night) wakes from a nightmare to find himself in the Howling Room. That's the cage he locks himself in during the full moon to prevent his lycanthropic curse from getting out of hand. As the moon's light shines down through the metal bars, he transforms into the werewolf. Finding itself chained, the beast begins to gnaw its own arm off to escape – but, it's quickly knocked unconscious by the thorazine that Jack took just prior to transforming. Meanwhile, a puritan named Isaiah Curwen has made his way to the city and decided that the monster named Jack Russell has to die.


Stingray in "Family Matters" part 2
written by Len Wein
art by Jim Fern



As Stingray is talking to Tiger Shark (in the hopes of him releasing his hostage, Stingray's wife), the Guardsman comes to and launches a sneak attack on the villain. We're then treated to quite a battle! But, the inexperienced heroes are ultimately defeated by Tiger Shark who takes his hostage and flees the scene. After he hooks the Guardsman up to the facility's life support system, Stingray sets out to find Tiger Shark – and more importantly, his wife!


Shroud in "The Dark Light of Kali"
written by Steve Ditko with Hollis Bright
art by Steve Ditko



At a new exhibit, the Shroud notices that a woman (named Firefly) is attempting to smash the Kali statue. The Shroud, believing it to be the actual Statue of Dark Powers, steps in to prevent the destruction. Firefly exhibits light powers that disorient the Shroud and allows her to get away. Later, we find out that the Cult of Kali murdered her family – and she seeks revenge on the Cult's High Lord: Krago. The Shroud recognizes Krago as an abuser of Kali and attempts to join forces with Firefly – but, it appears that she would rather die than ally herself with the Shroud for she believes him to be as evil as Krago.
The Wolverine vs Hulk feature seems open to lots of possibilities right now. They look like they're about to square off but, that could just be a dramatic cliffhanger ending. I'm interested to see how this will progress. Werewolf by Night's feature was very cool. Kaminski did a wonderful job of portraying Russell's fears of becoming the werewolf AND the werewolf's disdain for his human side. This was really enjoyable and I'm excited to see how this story pans out. Stingray's feature was a big battle but little actually happened in those eight pages. And, with the final story, I find yet another Steve Ditko feature that fails to truly capture my interest (ever read Speedball? *snooze).
On Ebay: Marvel Comics Presents | Wolverine | Werewolf | Stingray | Shroud
On AtomicAvenue: Marvel Comics Presents | Wolverine | Werewolf | Shroud