Because publishers want you to buy their product every month, comics are typically serial in nature. However, occasionally (and more often nowadays than ever before) publishers launch a comic title that is only meant to last for one issue. While ongoing series often have multiple chances to hook in new readers, the comics highlighted in this ongoing investigations only had One-Shot At Greatness!
Publisher: Marvel Comics
Cover Date: March 2002
Cover Price: $2.25
Writer: Chuck Austen
Artist: Chuck Austen
*Warning! Plot Spoilers Below*
After the events of Marvel Mangaverse: New Dawn, the Godzilla-sized Hulk is on the loose in New York City. Adding to the monster's destruction, Satanna and her minions are running loose. Curiously enough, while chaos is consuming the city, Damon Hellstrom calls a meeting with John Blaze, to reveal that they are brothers. He also empowers Blaze to become the Ghost Rider and they set out to fight Satanna and her demons. The super-sized evil mistress may be too big for them to take down … but, the Hulk's enormous stature may just do the trick!
Normally, I like fun and humor in my comics but, this seems to have just way too much of it. It relies on humor much more than action. And, with a book centered on these specific characters, the exceeding amount of humor just doesn't seem to fit. Add to that the strange artwork, which mixes very cartoony character designs with burgeoning CGI technology (this was 2002, after all), and I just can't give this book a high recommendation.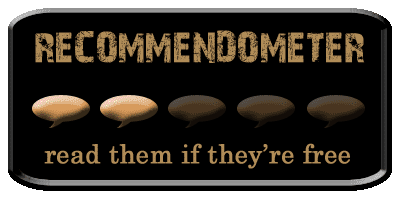 * It should be noted that dissatisfaction with this book starts at the very cover. Even though Werewolf By Night is prominently featured on the cover, he doesn't appear in this story at all.
On Ebay: Mangaverse | Chuck Austen
On AtomicAvenue: Mangaverse