With years spent reading single issues here and there, juggling storylines of dozens of titles, I decided it was time to find a better way to read comics. So, it was off to the back issue bins armed with the longest want list you've ever seen! Putting together series after series and reading them in their complete goodness, I was reborn as the Retro-Reader!
Publisher: Marvel Comics
Number of Issues: 20
First Issue: May 2004 ($2.25)
Last Issue: March 2005 ($2.25)
Writer: Daniel Quantz, Todd Dezago, Mike Raicht
Artist: Mark Brooks, Jonboy Meyers, Michael O'Hare, Patrick Scherberger, Logan Lubera, Valentine DeLandro, Derec Aucoin, Shane Davis, Jamal Igle, Gus Vasquez
*Warning! Plot Spoilers Below*
I can't imagine that anyone reading this post doesn't know the story of Spider-Man … but, just in case, here goes: High school nerd and social outcast, Peter Parker, is bitten by a radioactive spider, giving him the ability to stick to walls, a "spider-sense" for danger, super-strength and speed. Using the lesson his Uncle Ben taught him "With Great Power Comes Great Responsibility" he dons a costume, invents web-shooters and fights crime in the city.
Vulture. Doctor Octopus. Sandman. the Lizard. Electro. Mysterio. Green Goblin. Kraven the Hunter. All classic villains that have stood the test of time … and we get to experience Spider-Man's first encounters with them re-scripted with all-new artwork! Peter Parker has to juggle all these villains while maintaining the highest GPA in school and struggling to make money to help his Aunt May pay the mortgage and health care bills. But, things are looking up! He manages to get a job taking photographs of himself as Spider-Man for J. Jonah Jameson of the Daily Bugle newspaper. There's even a cute secretary named Betty Brant there that, amazingly enough, seems to be developing a crush on Peter … and now Liz, at school, is talking to him, as well. But, it can't be all good news … he's still looked down on by many of his classmates, especially the jock, Flash Thompson who seems to be after Liz, himself. But, that's the fun of Spider-Man – experiencing the highs and the lows with this relatable character.
The Bad: I've already experienced these stories from the first time around, so the "surprises" that a new reader would discover aren't so surprising.
the Good: This series takes the original classics created by Stan Lee and Steve Ditko and updates them for a new generation. The script is fresh and reflects the way people actually talk today. The artwork is superb and enhanced by it's brilliant coloring! These issues completely adapt the original 21 issues of the Amazing Spider-Man, great reads that laid the foundation for one of the most enduring comic book characters.
The Verdict: This is a wonderful way to experience (or re-experience) the early adventures of Spider-Man. The stories capture the high energy and fun and are a perfect reminder of what has made Spider-Man such a beloved character.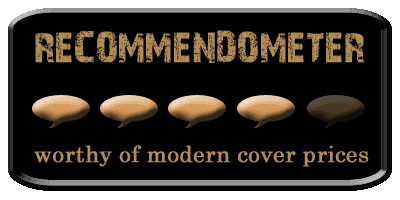 On Ebay: Spider-Man | Marvel Age | Todd Dezago