Marvel Two-In-One launched in 1974, teaming the Thing with a different hero each month. This guide will tell you everything you wanted to know about the series – and more!Spoilers appear below – You've been warned!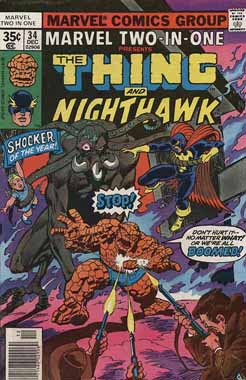 Publisher: Marvel Comics
Cover Date: December 1977
Cover Price: 35¢
Writer: Marv Wolfman
Artist: Ron Wilson
WHO stars in this issue?
the Thing – Benjamin J. Grimm was bombarded by cosmic rays in a space exploration flight, alongside three friends. The cosmic rays gave each of them different powers, and they formed the Fantastic Four. Ben underwent the most physical change of the foursome: his skin mutated into orange rock and, as a result, he gained super-strength.
Nighthawk – Kyle Richmond is a wealthy man who's dedicated his life to helping people. In addition to keeping his body in superb fighting condition, from dusk until dawn he acquires mild super-strength. He also utilizes a costume that gives him the ability to fly.
WHAT happens?
Kyle Richmond has been summoned to his company's London headquarters for an important meeting. His employees reveal that they've discovered a rock in the Himalayas – one that contains some type of bizarre creature. Meanwhile, back at Doctor Kort's lab, the Thing stands witness as Deathlok is finally brought back to consciousness and is then taken away by Nick Fury to S.H.I.E.L.D. Headquarters. Moments later, Kyle Richmond summons Doctor Kort (along with the Thing) to help with analyzing the previously mentioned rock.
Doctor Kort manages to free the creature from the rock but, when it is finally loose, it emits a gas that knocks unconscious all those present, including the Thing. The beast is aware (it can think thoughts to itself) but it cannot formulate a means of communication. It doesn't seem to be on the attack – but, its actions could be perceived that way (mostly because of the way it looks). So, it takes off for the countryside.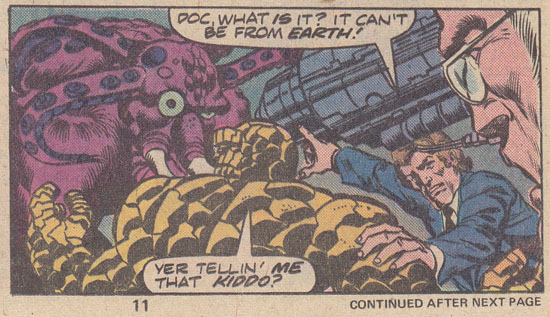 The "monster" comes across a hospital that has caught fight and decides to try to save the children trapped inside. The Thing and Nighthawk also drop in to lend a hand but onlookers, frightened by the beast's looks, determine that it is intending to do harm to the children. So, the heroic yet misunderstood beast is rewarded for his good deeds with deadly gunfire.
WHERE does the story take place?
This issue continues the story based in London.
WHEN does the villain next appear?
There is no villain in this issue and the alien creature doesn't live beyond its first appearance here.
WHY is Nighthawk the guest-lead?
I don't see much of an ulterior motive to get Nighthawk (of the Defenders) involved in this storyline. Marv Wolfman never wrote that title – so it's clear he wasn't cross-promoting his own work.
HOW was it?
This was easily the most heart-breaking issue of Marvel Two-In-One. Wolfman did a wonderful job of creating a "monster" that you truly feel for – and Ron Wilson created a truly frightening looking beast. What a dichotomy!
Note: This issue's letters column features commentary on Marvel Two-In-One #29.
On Ebay: Marvel Two-In-One | the Thing | Nighthawk
On AtomicAvenue: Marvel Two-In-One | Nighthawk