Marvel Comics Presents launched in 1988 as an ad-free anthology showcasing four eight-page features, stuffed inside a wrap-around cover. This guide will tell you everything you wanted to know about the series – and more!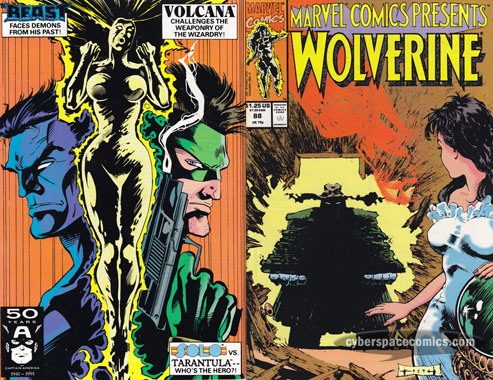 Cover Date: 1991 | Cover Price: $1.25 | Cover Artist: Sam Kieth; Jae Lee (back)

Wolverine in "Blood Hungry" part 4
written by Peter David
art by Sam Kieth



As Tyger Tiger and Cyber continue to negotiate the drug deal, Wolverine's healing factor works the hallucinagenic drug [that Cyber infect him with] out of his system.


Beast in "Just Friends" part 4
written by Scott Lobdell
art by Jae Lee



Jennifer Nyles is kidnapped by the Red Ghost's Super Apes and Commander Courage arrests their leader. Later, the Beast breaks into Belgium's Ministry of Defense to interrogate the Red Ghost – in an attempt to find out where the apes have taken his friend. Kragoff reveals that he doesn't know where they've taken her – and, that the apes are no longer under his control!


Solo in "Hero of the People"
written by Eric Fein
art by Mark Runyan



The Tarantula has been tracking down and killing perceived enemies of his nation of origin, Delvada. In response, Solo ("while he lives, terror dies") tracks him down to put an end to his killing spree. But, he's shocked the nation's citizens come to the rescue of this terrorist!


Volcana in "Shopping"
written by James Brock
art by James Brock



After the events of Secret Wars, Volcana is finding it hard to adjust to normal life, again. So, she sets out to be a super-heroine. Her first villain? The Wizard! Too bad she doesn't realize he's only intending to commit a minor theft. Everyone's got to start somewhere, though … right?
This issue we were treated to plenty of "dream action" from Sam Kieth – something he's good at (it's a chance to flex his creativity). I'm curious to see what the Super Apes are up to; they rarely act without being told what to do. The last two features were really digging at the bottom of the barrel but, I suppose even D-Listers need a chance to shine once in a while, too. Interestingly enough, Tarantula was more fun to read about than Solo. As for Volcana, it's nice to see a full-figured super-heroine in action in the Marvel Universe [a rare sight, indeed].
On Ebay: Marvel Comics Presents | Wolverine | Solo | Beast | Volcana
On AtomicAvenue: Marvel Comics Presents | Wolverine | Solo | Beast