Marvel Comics Presents launched in 1988 as an ad-free anthology showcasing four eight-page features, stuffed inside a wrap-around cover. This guide will tell you everything you wanted to know about the series – and more!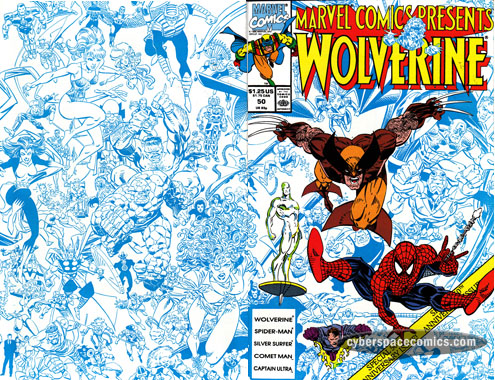 Cover Date: 1990 | Cover Price: $1.25 | Cover Artist: Erik Larsen

Wolverine in "Life's End" conclusion
written by Erik Larsen
art by Erik Larsen



Spider-Man and Wolverine recuperated from last issue's blast and resume their battle against Critical Mass and his Band of Baddies. In the battle, Spidey discovers that the guy dressed as a burglar is his dentist! The kidnapped girl uses her blasting powers to take down the warehouse and when Spider-Man comes to, everyone else is gone without a trace. After discovering two of these villains are related to him somehow, and with the knowledge of other friends-turned-villains (like the Green Goblin), Spider-Man can't help but wonder if his presence is somehow coincidentally turning people in his social circle into villains.


Comet Man in "A Family Affair" part 1
written by Bill Mumy with Miguel Ferrer
art by Kelley Jones



Comet Man is aboard a Fortisquian Starcruiser orbiting Earth's moon, searching for the man who ruined his life, the Superior – his own brother. A teleconference with Reed Richards confirms that there is no trace of his brother to be found. After the call, Comet Man's mentor, Max, decides it's time to take a break from training and return to Earth. Max intends to enjoy Earth culture as Comet Man tracks down his son. And, as Comet Man returns to his family's neighborhood, he stops a drunk-driver from hitting a biker.


Captain Ultra in "I Just Flew In From Poughkeepsie And Boy Are My Ams Tired"
written by Scott Lobdell
art by Dennis Jensen



Doc Samson cures Captain Ultra of his pyrophobia and he goes on a joyride through Poughkeepsie, unintentionally destroying some parts of the city. A friendly cop convinces Captain Ultra that any real super-hero belongs in New York City. So, moving to a new city, Griffin Gogol (Cap's alter ego) decides to pursue a career as a stand-up comedian. Too bad the club he's performing at is being frequented by Ekl'r – the Demon Without Humor. Looks like this is a job for … Captain Ultra! And, using his Ultra-Potential, he can do anything better than anyone else – so he destroys the demon with an Ultra-Joke.


Silver Surfer in "You Can't Go Home Again"
written by Ed Simmons
art by Jack Sparling




Flying through space, the Silver Sufer combines with a singularity (a black hole) and crash lands on a small planetoid that orbits the black hole. He's revived by a young woman named Rava and she explains that her people are prisoners of the Marauder – the conqueror who controls the singularity. Can the Silver Surfer defeat such a powerful villain now that his board has gone missing?
Erik Larsen's Spider-Man/Wolverine story concludes and utilizes a concept that comic fans have been commenting on for years: it seems awfully strange that so many friends/acquaintances of super-heroes become super-powered individuals, themselves. And, in the last page, Wolverine sends off the kidnapped girl and her father but, take note of the clues about his identity:
1. He says "Holey Moley".
2. He reveals that he's an orphan.
3. Wolverine refers to him as "Captain" and "Mr. Beck".
Fawcett Comics' Captain Marvel was co-created by C.C. Beck whose catchphrase was "Holey Moley". Additionally, his alter ego was an orphan named Billy Batson. Soooooooooo this is an unauthorized guest-appearance by Captain Marvel (who, at this point, was owned DC Comics). Now, as fun as the art was in this three-parter, the storyline wasn't all that great – aside from asking a question that we've always wondered about. Naturally, no answer is provided.
It's neat to see Marvel following up on a minor character with this Comet Man feature. He had his own mini series in the 1980s and later appeared in a few Fantastic Four issues. Even better? It utilizes the same creative team as his mini-series (the writer is Bill Mumy; Will Robinson from Lost in Space).
Another one of Marvel's minor characters is featured in this very issue: Captain Ultra. This character was also featured in the Fantastic Four, years ago – and is brought back here by writer, Scott Lobdell who also has performed as a stand-up comedian (just like Captain Ultra's alter ego).
And, how about that Larsen cover? Supposedly, it features every character that has appeared in MCP so far. And – it must have taken him days to put together!
On Ebay: Marvel Comics Presents | Wolverine | Comet Man | Captain Ultra | Silver Surfer
On AtomicAvenue: Marvel Comics Presents | Wolverine | Comet Man | Silver Surfer