With years spent reading single issues here and there, juggling storylines of dozens of titles, I decided it was time to find a better way to read comics. So, it was off to the back issue bins armed with the longest want list you've ever seen! Putting together series after series and reading them in their complete goodness, I was reborn as the Retro-Reader!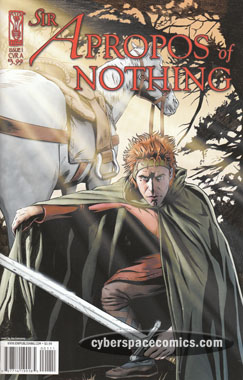 Publisher: IDW
Number of Issues: 5
First Issue: November 2008 ($3.99)
Last Issue: March 2009 ($3.99)
Writer: Peter David
Artist: Robin Riggs
*Warning! Plot Spoilers Below*
Our hero, Apropos, doesn't quite fit the "hero image". He's self-serving, lame of leg and has not a thing to his name. Wandering in the desert, he unearths a shiny gold cross that also doubles as a weapon. Soon after, a freak storm produces a tornado that sucks up Apropos and deposits him in a forest where he accidentally saves a young gypsy from a Wolfman! Not one to take such things for granted, the girl takes him back to her camp where he receives a hero's welcome. He's then brought to the nearby kingdom of Intravania, where he's thought to be their prophesied savior. It's his duty to transform the wispy young prince there into a threatening ruler before the neighboring kingdoms discover the Intravanians are ripe for the pickings. But, he's certainly got his work cut out for him … and time is short!
The Bad: There's not much I can pick on in this series but the art and the coloring have a bit of a dull, unpolished look.
the Good: Fun. Peter David always manages to infuse his work with a lot of fun and humor. A host of pop culture references are sprinkled throughout this series that brought me plenty of smirks. He's created a hero here that lucks into his victories but his self-awareness of the limitations of his abilities lend him an endearing quality.
The Verdict: Even though I've never read the novels this character originated from, I didn't feel left in the dark while reading through this series. It was a lot of fun and the story took us on quite a few adventures within these five issues. The characterization was superbly done as the caption boxes allows us to get inside the main character's head. Even though it's clearly a satirization/parody of Dark Tower, Dracula and more … it doesn't have the empty feeling that many parody stories can have. I'd gladly read a second series.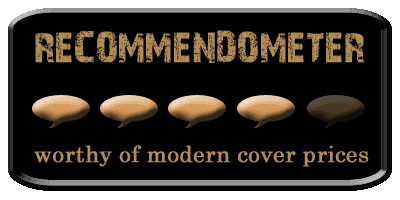 On Ebay: Sir Apropos | Peter David | Robin Riggs