During the speculator boom in the 1990s comic book market, publishers enhanced comic covers to increase sales. These gimmicks included shiny foil, holograms and even pop-ups! But, one of the coolest enhancements was the glow in the dark cover. Let's shed some light on the subject, shall we?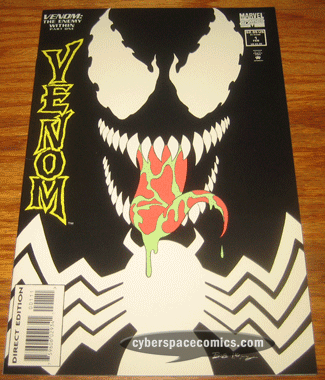 Publisher: Marvel Comics
Cover Date: February 1994
Cover Price: $2.95
Venom's popularity in the 1990s was at an all-time high. Capitalizing on this surge, Marvel released his very own mini series, entitled Venom: Lethal Protector. It sold well enough to warrant a second series but, rather than greenlight an ongoing series, Marvel continued to feature Venom in mini-series after mini-series. This was previously unheard of! Precedent established that if a limited series sold well enough, an ongoing series would follow. Venom broke this trend with well over 15 different mini-series. It was a smart move for Marvel because they were able to capitalize on a new #1 issue every few months and they commonly armed each potential blockbuster with a cover enhancement. The weapon of choice for Venom: the Enemy Within (which guest-starred Morbius the Living Vampire) was a glow in the dark cover!
On Ebay: Venom