With years spent reading single issues here and there, juggling storylines of dozens of titles, I decided it was time to find a better way to read comics. So, it was off to the back issue bins armed with the longest want list you've ever seen! Putting together series after series and reading them in their complete goodness, I was reborn as the Retro-Reader!
Publisher: Dark Horse Comics
Number of Issues: 3
First Issue: March 2010 ($3.50)
Last Issue: May 2010 ($3.50)
Writer: Felicia Day
Artist: Jim Rugg
*Warning! Plot Spoilers Below*
Cyd's life kind of sucks. Her boyfriend treats her pretty bad, her job's not too great and her self-esteem is sub-par. But, when a random event leads to her buying a M.M.O.R.P.G. (which for all intents and purposes is the World of Warcraft) she uses it as an opportunity to reinvent herself, albeit digitally. As is the natures with such games, she soon meets several other players who are misfits in their own right. Over the next few weeks, these other players continue to run into her and as she gets to know them all, she also gets more addicted to the game. Blurring the line between real life and her character's life, these other players become her closest friends. But, as her life continues to get worse, will she totally escape into her avatar?
The Bad: The only thing I can pick on this series for is that the fantasy covers don't convey any of the slice-of-life nature of the story.
The Good: Plenty of great characterization to be had here. Also, the change in art styles between "real life" and "game life" was a nice touch.
The Verdict: This mini-series tells the origins of the Guild (a popular webseries). Having never seen the series and never having played an MMORPG before, I thought I might be left out of the loop when it came to reading this book. Impressively enough, the writer does a wondeful job of approaching the story from Cyd's point of view as a newbie. So, the reader gets to learn about the gameplay (and the other characters) at the same time as the protagonist. The book shifts tone between depressing reality and the enjoyment of the game, allowing you to experience emotional highs and lows. The artwork also shifted tones between reality and fantasy, complementing the story. This was a wonderful read that exceeded all of my expectations. And, if I was an online gamer or fan of the web series, I'm sure I'd be able to appreciate it even more.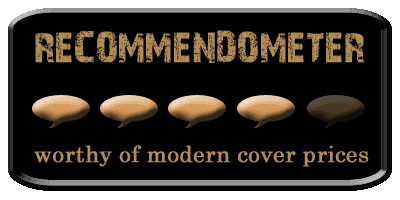 On Ebay: the Guild | Felicia Day | Jim Rugg