With years spent reading single issues here and there, juggling storylines of dozens of titles, I decided it was time to find a better way to read comics. So, it was off to the back issue bins armed with the longest want list you've ever seen! Putting together series after series and reading them in their complete goodness, I was reborn as the Retro-Reader!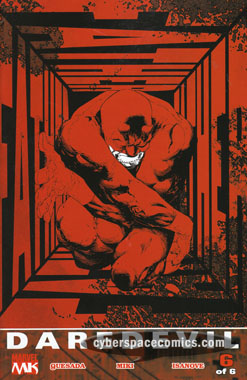 Publisher: Marvel Comics [Marvel Knights]
Number of Issues: 6
First Issue: June 2004 ($3.50)
Last Issue: February 2007 ($2.99)
Writer: Joe Quesada
Artist: Joe Quesada
*Warning! Plot Spoilers Below*
A heat wave has put the pressure on the people of Hell's Kitchen as a new serial killer, named "Johnny Sockets" by the media, is leaving a trail of murdered victims without their eyes. Meanwhile, a group of vigilantes known as the Santerians aren't too pleased with Daredevil's methods. He cleans up Hell's Kitchen but isn't concerned with the other ares of NYC that are affected by the criminals who've changed locales to avoid him. An altercation with them leaves Daredevil battered and bruised. But, he'll need all the strength and speed he can muster to uncover the true identity of the murderer before the next target, Foggy Nelson, is killed!
The Bad: Not that it matters now but, there were over 30 months between the cover dates of the first and last issues. I'm glad I wasn't reading this issue by issue (the joys of "retro-reading"!). The killer's motive is kind of left up-in-the-air … insanity, while certainly a motive in reality, is not quite a fulfilling plot conclusion.
the Good: Quesada's art is high-quality and features brilliant coloring by Isanove. Joe's created a murder mystery here that's very well done and I must admit that I did not see the plot twist coming (although, if you go back and check issue one, the clues shown in issue six were certainly included).
The Verdict: This is a murder mystery that also explores the relationships between sons and fathers. I enjoyed that Quesada introduced new characters to set up several possibilities for the reveal and his art, coupled with Isanove's coloring, did a great job of keeping the story visually-engaging. If you accurately guessed the killer by issue two, color me impressed!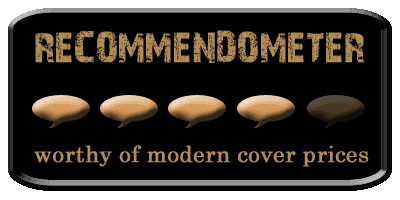 On Ebay: Daredevil | Joe Quesada