With years spent reading single issues here and there, juggling storylines of dozens of titles, I decided it was time to find a better way to read comics. So, it was off to the back issue bins armed with the longest want list you've ever seen! Putting together series after series and reading them in their complete goodness, I was reborn as the Retro-Reader!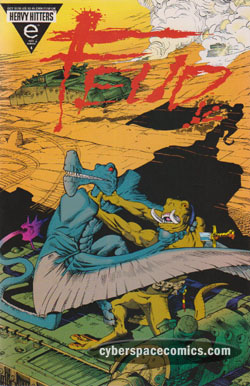 Publisher: Epic Comics
Number of Issues: 4
First Issue: July 1993 ($2.50)
Last Issue: October 1993 ($1.95)
Writer: Mike Baron
Artist: Mark A. Nelson
*Warning! Plot Spoilers Below*
Feud introduces us to a world inhabited by four races of creatures:
Stokers – two-legged reptiles; weapons manufacturers
Kites – flying reptiles; artists; guano-producers
Skids – amphibians; fishers
Grunts – four-legged reptiles; slow-moving farmers

The manipulative Kites capture the Skids' royal tadpole and frame the Stokers for the abduction. The Skids retaliate by unleashing a tidal wave against the Stokers' fortress. As the battle abates, the two races discover the Kites' subterfuge and their rulers have a meeting to discuss their next move.
An unfortunate turn of events (driven by nature's primal instinct) leads to the Stoker's leader eating the Skids' queen! Meanwhile, the Kites recruit the Grunts in the war against the Stokers. It's all out war (with some reservations and consideration given to each race's economy and barter system) in this fun, light-hearted political thriller!
The Bad: n/a
The Good: Baron puts together four distinct races of animals, all with their own personalities and pre-dispositions. Nelson has created some very neat-looking creatures with a great color pallete. It's got a great mix of politics, humor and action!
The Verdict: The sheer audacity required to create an anthropomorphic political thriller like this is incredible. The very fact that Baron & Nelson even decided to tackle a comic like this should be rewarded. But, the real reward goes to the reader: They pulled it off! Tons of humor and action keep this series moving along as you find yourself actually caring about these imaginary reptilian creatures. And, we haven't even gotten to the mammals yet. The last page is a great set-up for a sequel … and I want more!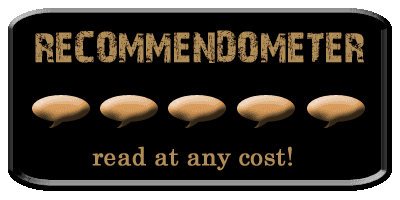 On Ebay: Mike Baron | Feud | Mark Nelson