With years spent reading single issues here and there, juggling storylines of dozens of titles, I decided it was time to find a better way to read comics. So, it was off to the back issue bins armed with the longest want list you've ever seen! Putting together series after series and reading them in their complete goodness, I was reborn as the Retro-Reader!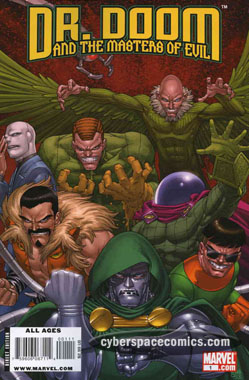 Publisher: Marvel Comics
Number of Issues: 4
First Issue: March 2009 ($2.99)
Last Issue: June 2009 ($2.99)
Writer: Paul Tobin
Artist: Patrick Scherberger and others
*Warning! Plot Spoilers Below*
Doctor Doom's got a mission and he's going to stop at nothing to accomplish it. To begin, he sends the Sinister Six into a Stark Facility against Iron Man and Dr. Strange in an effort to capture some R5-Puddon. The elemet allows Doom to craft a strong, illusion-creating gas. Then he pits the Circus of Crime against the Masters of Evil in a move to gain immortality from a powerful stone. Doom then uses the illusion-gas to distract Blastaar long enough to kidnap an ancient creature named Quinn. Finally, Doom and Magneto travel to Selene's mansion on the coast of Scotland. Quinn revealed that this spot contains great power created by the Infinity Gems. But, in order to harness that power, Doom must first defeat Selene! Or, at best, outwit her.
Once outwitted, Selene grants Doom access to the power – allowing him to utterly destroy his greatest enemy! Uh oh! Reed Richards of the Fantastic Four better prepare for utter oblivion! Or, should he? Who is Doom's greatest enemy? And, will he give up his immortality to be able to harness the power to destroy that foe?
The Bad: This story is so cool that I wish it was in-continuity – but, alas, I have the feeling it's not.
The Good: Great, bright, shiny, dynamic art. Tons of villains thrown into each issue. One of the coolest Dr. Doom stories in terms of characterization.
The Verdict: This series is a great example of the driven nature of Doctor Doom. He stops at nothing to achieve his goals and has everything planned out six steps ahead of everyone else. Everything and everyone is just a stepping stone to his ultimate goal – even other threatening villains like Magneto! Besides all that, the story is a blast. It's got adventure, exotic locales, powerful villains and fun little scenes/dialogue that keep it interesting. There's plenty of action in every issue featuring big battles with lots of established villains (and even a few heroes) but, the true highlight here is the writer's understanding of Doom's character. If you're a Doom fan, you've gotta read this one.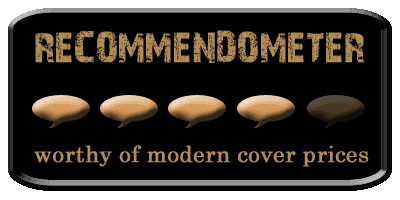 On Ebay: Doctor Doom | Paul Tobin | Patrick Scherberger