With years spent reading single issues here and there, juggling storylines of dozens of titles, I decided it was time to find a better way to read comics. So, it was off to the back issue bins armed with the longest want list you've ever seen! Putting together series after series and reading them in their complete goodness, I was reborn as the Retro-Reader!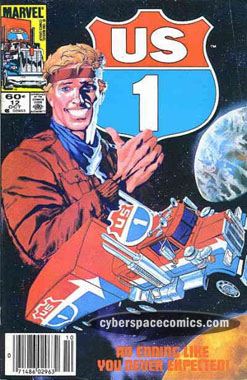 Publisher: Marvel Comics
Number of Issues: 12
First Issue: May 1983 (60¢)
Last Issue: October 1984 (60¢)
Writer: Al Milgrom
Artist: Herb Trimpe, Frank Springer, Steve Ditko (#12)
*Warning! Plot Spoilers Below*
After graduating from college with degrees in computer program design and electronics engineering, Ulysses Solomon Archer's passion for the road landed him in the passenger's seat of his brother's rig. One fateful night, they were driven off the road by the mysterious Highwayman. Somehow, U.S. survived the crash but his brother, Jefferson, had gone missing! An experimental metal was formed to replace U.S.'s shattered skull – crafted from an alloy that gave him the ability to focus CB channels and other frequencies into his brain. U.S. geared up his own rig, U.S. 1, with lots of high-tech weapons and even a remote control that he could control with his brain, in order to prepare for the Highwayman's return.
As the series continued, U.S. spent his quieter time at the Short Stop Truck Stop alongside his friends Poppa Wheelie, Wide Load Annie, Retread, Mary McGrill and Taryn O'Connell. However, the Highwayman was quick to continue his attack and sent his lackies, Midnight and Baron Von Blimp, in attempts to capture U.S. Eventually, Archer defeated all of these villains and even the 'big boss', himself. But, it's at this point that the series took a strange turn as U.S. 1 and the Highwayman engaged in a competition to be Earth's first space trucker!
The Bad: The main hero is such a stereotypical, boring, plain hero. Even his "super-powers" (a CB Skull and a weaponized tractor trailer) aren't all that interesting.
The Good: Milgrom built up quite a few mysteries in the book. What's the secret identity of Midnight? What happened to Jefferson Archer? What's the secret behind the Highwayman?
The Verdict: In the early 1980s, Tyco approached Marvel to create a comic based on a remote-controlled toy truck they were developing. The toy was never released but Marvel had already begun working on their first maxi-series (this predates Secret Wars). U.S. Archer was also the first trucking super hero to get his own series. Although, it should be mentioned that he's not the first trucking super hero. Razorback predates him by quite a number of years.
Within these twelve issues, our hero undergoes quite a journey. There are some not-so-startling revelations and if you guessed where this series ends up without any inside information, you might want to check yourself for precog abilities. However, there are still two main concerns with this series. The first is that, as most comics from this time period do, each issue has to spend a significant amount of time reminding us of what's happened before, who the characters are, and what abilities our hero has. Now, I suppose this is fine if you're reading just one issue or if you're reading one issue a month but if you read the series in its entirety in a short amount of time, it just gets kind of annoying. Secondly, and more importantly, the main hero is quite bland. He's a duddly do-right character with no visible flaws. He always does the right thing and he's not all that personable. At least, not in this series … although subsequent appearances (most recently in Avengers: the Infinity Gauntlet) have made him more enjoyable. Experience it for the ride – or skip it for a more character-driven read (like say Way's Deadpool). Either way works.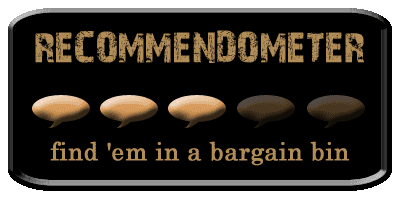 On Ebay: U.S. 1 | Al Milgrom | Frank Springer