With years spent reading single issues here and there, juggling storylines of dozens of titles, I decided it was time to find a better way to read comics. So, it was off to the back issue bins armed with the longest want list you've ever seen! Putting together series after series and reading them in their complete goodness, I was reborn as the Retro-Reader!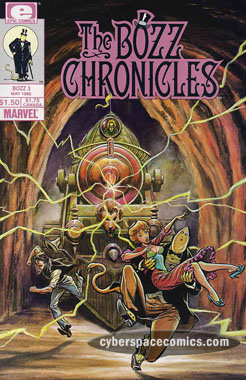 Publisher: Epic Comics
Number of Issues: 6
First Issue: December 1985 ($1.50)
Last Issue: November 1986 ($1.50)
Writer: David Michelinie
Artist: Bret Blevins
*Warning! Plot Spoilers Below*
Amanda Flynn is a lady of the night who lived in Victorian England during the latter half of the 19th century. One evening she stumbled upon a yellow-skinned alien trying to hang himself in an abandoned building. He explained that he crash-landed onto Earth and had grown bored with the mundanity of life, here. Apparently, his civilization was much more advanced and the only way to keep him occupied was to get him involved in mysteries and strange occurences that warranted investigation.
So, Mandy and Bozz formed a detective agency, taking on the cases that Scotland Yard couldn't handle. The business was mutually beneficial: Mandy could make a living in a more respectable profession and Bozzwell (as Mandy had taken to calling him) was happy to put off suicide as long as there was an investigation to keep him occupied. Along with a friendly (but rough) American named Salem Hawkshaw, the trio were involved in cases involving resurrected men, demon infestations, hidden societies, African curiosities and other interesting happenings.
The Bad: This series was cut down all too quickly. There's quite a bit of fun untapped potential left.
The Good: A great mix of Sherlock Holmes and E.T.
The Verdict: Here's a fun mix of concepts: Victorian England, an alien, a hooker, an American ruffian and Sherlock Holmes-style mysteries. Bret Blevins' character designs are wonderful! Bozz is a wide-eyed alien who's so advanced that everything bores him – and Bret captures that aloofness perfectly. His Salem is a bit reminiscent of Wolverine (but it's quite likely that it's intentional) and Mandy is instantly likeable! Michelinie manages to pack a great bit of characterization into these handful of issues and sets up (and resolves!) quite a few mysteries. I'm not too knowledgeable about Arthur Conan Doyle's Sherlock Holmes stories – but it seems that this series owes a lot to the famous detective. I imagine Sherlock fans are sure to enjoy this title and if you couldn't tell, I'm quite fond of it myself; I wish there were a bunch more to read! This concept could go on for quite some time and continue to be just as enjoyable.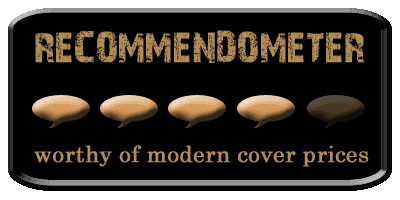 On Ebay: Bozz | David Michelinie | Bret Blevins
On AtomicAvenue: Bozz