Marvel Comics Presents launched in 1988 as an ad-free anthology showcasing four eight-page features, stuffed inside a wrap-around cover. This guide will tell you everything you wanted to know about the series – and more!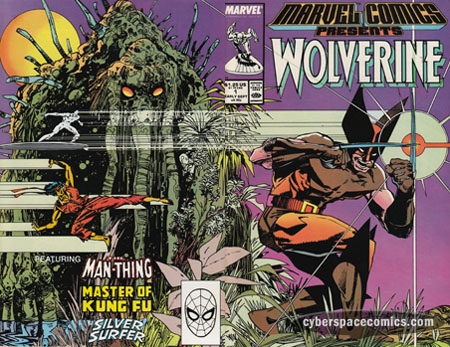 Cover Date: Early September 1988 | Cover Price: $1.25 | Cover Artist: Walter Simonson

Wolverine in "Save the Tiger" part 1
written by Chris Claremont
art by John Buscema with Klaus Janson




Logan (Wolverine in plainclothes) wanders into Madripoor's Princess Bar in the middle of a brawl and rescues some patrons including O'Donnell and Sapphire. A man named Dave Chapel sent Logan to find O'Donnell because he can help Logan find the Tiger. However, upon mentioning Chapel's name, tension returns to the bar as everyone pulls their weapon out against Logan. His inquiry seems odd – especially knowing that "Chapel's dead"!


Man-Thing in "Elements of Terror" part 1
written by Steve Gerber
art by Tom Sutton




A failed genetic experiment is loose in the Everglades – emitting plenty of negative emotions due to its now-malformed body. The empathic Man-Thing is drawn to the strong emotions and ends the creature's life. Later, Zahner and Monteiro (the creature's careless handlers) bid farewell to their boss, General Steel, after confirming the experimental creature's death. Soon after, they're attacked by a second experiment! Their fear draws the Man-Thing to the scene and they make their escape as the two monsters battle it out. Yet again, the Man-Thing emerges as the victor – but this time, it seems to be physically affected by contact with the creature.


Master of Kung Fu in "Crossing Lines" part 1
written by Doug Moench
art by Tom Grindberg with Dave Cockrum




Shang-Chi emerges out of retirement – feeling his time as a fisherman had been a waste. He puts himself out in the public eye as bait and discovers that there is still a bounty on his head. Even though his time in retirement has slowed him down, he still manages to defeat two of the assassins sent after him – although it takes more effort out of him than he would have hoped. The third assassin leads him on a chase that brings him to Oriental Expediters, Ltd where he is reuinted with his first love, Leiko Wu, as well as his former companions Black Jack Tarr and Clive Reston. The band is back together!



Silver Surfer in "Fear Itself"
by Al Milgrom





Unsatisfied with feasting on the common fears of basic lifeforms, the alien Fear-Eater goes in search of unique creatures with unique fears. He targets the Silver Surfer with a barrage of mental conjurations intended to foster intense fear in the heart of the cosmic-powered hero. But, time and time again, the Silver Surfer proves his heroic mental state by overcoming each fear-inducing illustion and driving the Fear-Eater off in search of weaker prey.

The four characters that kicked off the first issue are certainly interesting choices especially since there's not a Spider-Man feature to be seen! It's hard to imagine, but at the time, Wolverine had never even had his own ongoing title (it launched a month later). The Man-Thing had rarely been seen since his second ongoing title was cancelled in 1981 – although, I imagine the reunion of the muck-monster with beloved writer, Steve Gerber, was cause for much fanboy jubilation. Likewise, bringing back the Master of Kung Fu by long-time writer, Doug Moench, was sure to make plenty of Shang-Chi fans happy since his last issue was published in 1983. Finally, the Silver Surfer was the only character featured in this issue that actually had his own ongoing title (it launched in 1987, a year earlier).
Note: The credits on the inside front cover mix up the creators of the Man-Thing and Master of Kung Fu features.
Note from the Finance Department: When this issue ($.0285/page) was published, other comics cost 75¢ for 22 pages of story ($.0341/page). So, even though this comic cost 25¢ more than the average comic, it's price per page was actually 16% cheaper.
On Ebay: Marvel Comics Presents | Wolverine | Man-Thing | Shang-Chi | Silver Surfer
On AtomicAvenue: Marvel Comics Presents | Wolverine | Man-Thing | Master of Kung Fu | Silver Surfer