Marvel Comics Presents launched in 1988 as an ad-free anthology showcasing four eight-page features, stuffed inside a wrap-around cover. This guide will tell you everything you wanted to know about the series – and more!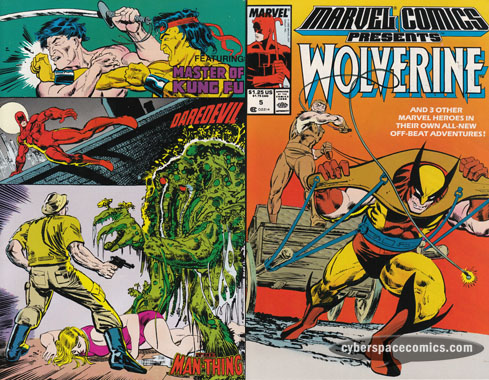 Cover Date: Late October 1988 | Cover Price: $1.25 | Cover Artist: John Buscema with K. Janson

Wolverine in "Save the Tiger" part 5
written by Chris Claremont
art by John Buscema with Klaus Janson




Logan, battered from his fight and huge fall from last issue, is rescued from the Madripoor Harbor by Jessan Hoan. Over the next few days, she nurses him back to health.


Man-Thing in "Elements of Terror" part 5
written by Steve Gerber
art by Tom Sutton




In Washington D.C., Colonel Jody Choate testifies that his involvement with the Freedom Science Institute was done with the nation's best interests in mind – attempting to defeat an influx of Communist sentiment. Back in the Florida swamps, "Demon" (we discover her real name is Marea) has thrown off her government bosses now that she's got the Man-Thing – hoping to use him as a gateway for demonic infestation. And, over in Northern California, the Super Soldier experimentation continues to progress.


Master of Kung Fu in "Crossing Lines" part 5
written by Doug Moench
art by Tom Grindberg with Dave Cockrum




Shang-Chi and the Cat continue to hunt down the trail that will lead them to Argus and his Terrorist Training Base. And, over at the base, where Argus still has Leiko Wu captive, we discover that he has commissioned a deadly chemical to be produced that will provide immediate incapacitation for its victims.


Daredevil in "You'll See It When You Believe It"
written by Terry Kavanagh
art by Dwayne Turner with Michael Gustovich




Matt Murdock is contacted by a teenager named Freddy who claims that a man named Rick is out to kill him. But, there's more to this story than there originally appears. Can Daredevil help this young man before irreparable harm is done to him?
The Daredevil story found here is not your standard super-hero tale but does a great job of promoting awareness of mental illness.
Note from the Format Dept: this issue's cover is not in the single image wrap format established by the first issue.
On Ebay: Marvel Comics Presents | Wolverine | Man-Thing | Shang-Chi | Daredevil
On AtomicAvenue: Marvel Comics Presents | Wolverine | Man-Thing | Master of Kung Fu | Daredevil