Marvel Comics Presents launched in 1988 as an ad-free anthology showcasing four eight-page features, stuffed inside a wrap-around cover. This guide will tell you everything you wanted to know about the series – and more!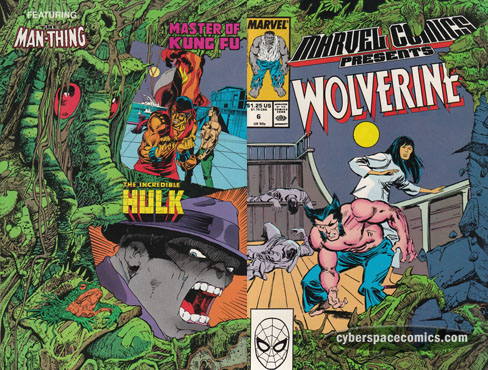 Cover Date: Early November 1988 | Cover Price: $1.25 | Cover Artist: John Buscema with K. Janson

Wolverine in "Save the Tiger" part 6
written by Chris Claremont
art by John Buscema with Klaus Janson




Jessan Hoan reveals to Logan what she's gone through since the Reavers abducted her. She explains how her life has been severely altered and that she is the upstart crimelord, the Tyger.


Man-Thing in "Elements of Terror" part 6
written by Steve Gerber
art by Tom Sutton




The operation to advance the Super Soldier Serum continues to unravel as we learn that the President, himself, is involved with this covert experiment. Meanwhile, in Casagata, Marea is engufled by the Man-Thing and submitted to seemingly hallucinegenic mental trip, perhaps created by the Man-Thing's current Super Soldier Serum infection.


Master of Kung Fu in "Crossing Lines" part 6
written by Doug Moench
art by Tom Grindberg with Dave Cockrum




Shang-Chi and the Cat pose as drug runners and weapons dealers to get inside Argus' Terrorist Cell. Black Jack Jarr discovers that Argus has actually advanced the Terrorist Organization in an effort to get the USA to strike back against it and utterly destroy it. I suppose that's one way to defeat terrorism? Albeit, a strange way of going about it.


Hulk in "Risky Business"
written by Bobbie Chase
art by Jeff Purves




Ever since the Hulk took the job of the Coliseum's main bouncer and adopted the name of Mr. Fixit, his casino's crime rate has decreased to zero while their competitors face rising rates. So, the rest of the casinos hired some thugs to attack Fixit with heavy artillery. Fortunately for the Hulk, he easily survives their barrage … unfortunately for the casinos – the Hulk knows they were behind the attack.
The Hulk story was a little too anti-climactic, for me – and Purves' artwork has never tickled my fancy.
Note from the Format Dept: back to the single image wrap format again.
On Ebay: Marvel Comics Presents | Wolverine | Man-Thing | Shang-Chi | Hulk
On AtomicAvenue: Marvel Comics Presents | Wolverine | Man-Thing | Master of Kung Fu | Hulk