Because publishers want you to buy their product every month, comics are typically serial in nature. However, occasionally (and more often nowadays than ever before) publishers launch a comic title that is only meant to last for one issue. While ongoing series often have multiple chances to hook in new readers, the comics highlighted in this ongoing investigations only had One-Shot At Greatness!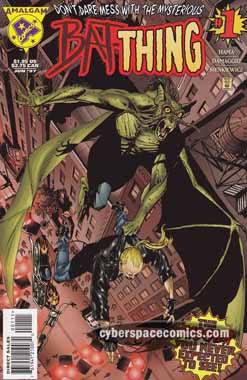 Publisher: Amalgam Comics
Cover Date: June 1997
Cover Price: $1.95
Writer: Larry Hama
Artist: Rodolfo Damaggio with Bill Sienkiewicz
When the DC and Marvel Universes merged in Marvel vs DC, a new one was created: the Amalgam Universe. This one-shot combined Man-Bat with Man-Thing.
*Warning! Plot Spoilers Below*
A creature called the Bat-Thing is watching Francie Sallis and her daughter Kelly. This green-skinned, winged monster stalks the night and Detective Clark Bullock has decided to extend the Sallis girls his aid. When some local thugs enter the mix and launch an attack on the girls the frenzy inspires the empathic monster to leap into action. But, who will he attack first? And, what's his connection to the Sallis girls?
Hama handled this book excellently. He's created a true horror/suspense tale and we're along for the ride trying to figure out character motivations. If you can read this tale without looking at the cover (I know! It's an enormously difficult task.) you'll be in for a real treat. That's because the artist doesn't give us a good look at the monster's face until halfway through the book. All great monster movies use this trick to build up your interest in what the creature is actually going to look like. Damaggio's art fits the moody tone just right and Sienkiewicz's inks add that extra touch of artistry that he's so good at. I'm a sucker for monsters in almost any form of entertainment – and I'm always up for a great Man-Thing story. Put those together, and you've got my recommendation for this one.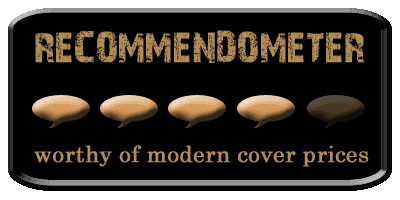 On Ebay: Amalgam | Larry Hama | Bill Sienkiewicz | Roger Cruz
On AtomicAvenue: Amalgam Comics