Marvel Comics Presents launched in 1988 as an ad-free anthology showcasing four eight-page features, stuffed inside a wrap-around cover. This guide will tell you everything you wanted to know about the series – and more!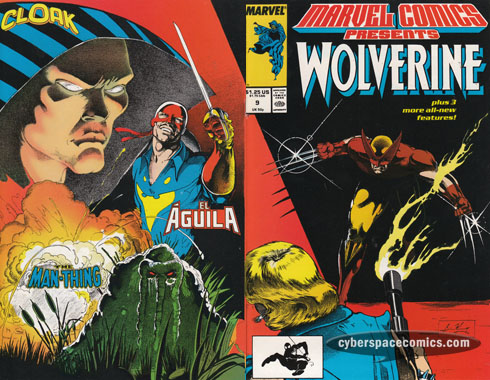 Cover Date: Late December 1988 | Cover Price: $1.25 | Cover Artist: Brian Murray

Wolverine in "Save the Tiger" part 9
written by Chris Claremont
art by John Buscema with Klaus Janson




In this penultimate chapter, Wolverine and Razorfist battle to the death! (Death? heh heh … this is comics, people – so you can be assured that Razorfist eventually pops up alive somewhere.) And, while that's going on, the Tyger (Jessan Hoan) takes on the Inquisitor and Sapphire Styx. Next up? Roche!


Man-Thing in "Elements of Terror" part 9
written by Steve Gerber
art by Tom Sutton




The raid on the cultist base in Florida continues and the Man-Thing takes a missile – right to the chest! And now, all that's left is his head. In Northern California, the mutated Senator Wycombe (who I guess we're now calling Railsback) is raging against the prison he's in. And, finally, Colonel Jody Choate prepares to be injected with the same defective Super Soldier Serum that has infected Wycombe.


Cloak in "In The Dark"
written by Marc McLaurin
art by Tony Salmons




Cloak volunteers to save a girl that's fallen down a well. But, when he gets there, he discovers she's surrounded by the Molemen! He immediately attacks them only to later learn that they were trying to help her, as well. Moments later, a flash flood threatens to kill them all but Cloak envelopes them all and transports them to safety. The experience leaves him with a lot to ponder about what makes a "monster".


el Aguila in "Piece of Cake!"
written by Scott Lobdell
art by Larry Alexander




El Aguila returns to his home village in Spain to free it from the evil influence of el Conquistador. But, he quickly discovers that he's outmatched in brute strength. He'll have to utilize his intellect and bio-blast powers to free his town.
The two single-issue features included here are a great representation of how they can be done right … and wrong. El Aguila's story is all action-oriented and does little else but spotlight a lesser-exposed Marvel hero. Cloak's story, on the other hand, is all about creating a character moment – allowing for character (and reader) introspection.
On Ebay: Marvel Comics Presents | Wolverine | Man-Thing | Cloak and Dagger | el Aguila
On AtomicAvenue: Marvel Comics Presents | Wolverine | Man-Thing | Cloak