Marvel Comics Presents launched in 1988 as an ad-free anthology showcasing four eight-page features, stuffed inside a wrap-around cover. This guide will tell you everything you wanted to know about the series – and more!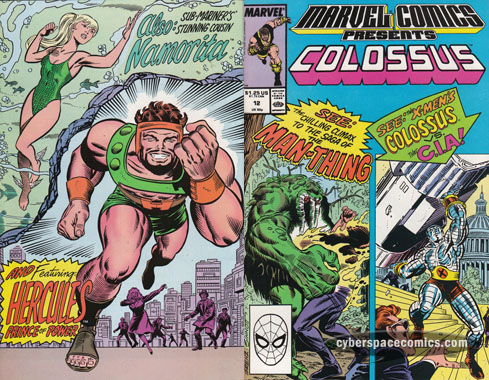 Cover Date: Early February 1989 | Cover Price: $1.25 | Cover Artist: Ron Frenz

Colossus in "God's Country" part 3
written by Ann Nocenti
art by Rick Leonardi




Colossus takes on the three super-powered thugs in the park and then escapes with the family who's son was a witness to the original attack. They turn to the police for help but, when Colossus gets a suspicious feeling about the police, they run off to their country home and hide out.


Man-Thing in "Elements of Terror" conclusion
written by Steve Gerber
art by Tom Sutton




The mutated Colonel Choate, the monstrous Super Soldier experiments and the other members of the government conspiracy all come head to head in the big blow out! The strong, negative emotions inspired by the confrontation draw the Man-Thing to the scene and cost Choate an arm, in the final battle.


Hercules in "Noble Fathers Have Noble Sons"
written by Chris Henderson
art by Don Heck




J. Jonah Jameson promises Lynch a life-time job at the Daily Bugle if he can write an article that captures a super-hero looking bad or misbehaving. The seemingly easiest target? Hercules! Heavy drinker, woman-chaser, and teller of tale tales. However, after following him around for a day, Lynch catches Herc in an act that preserves justice! Now, our reporter's got to decide whether to make Herc's actions appear worse than intended … or forego the job by taking the righteous approach.


Namorita in "Spring Break"
written by Scott Lobdell
art by Frank Springer




After coming face to face with New York's ugly side, Namorita decides to take a mental-vacation by returning to her home city of Atlantis. But, upon arriving home, she discovers that Atlantis has its own slums, just as New York does. While there, she comes under attack by the School (Crab, Mussels, Squid, and Seaweed), who rule over the Atlantean slums. After defeating the villains, Arkus and the Alantean army shows up to "save the day" but, Namorita doesn't feel that their approach to the problem is the right way, either.
After twelve chapters, the Man-Thing story draws to a close. While I certainly appreciate Sutton's monstrous art and Gerber's attempt to attach some of the story to the muck monster's origin – in the end, there was just way too much going on that was all too loosely tied together. It didn't quite seem like a Man-Thing story so much as it felt like a story guest-starring the Man-Thing. I much prefer J.M. DeMatteis' take on the character.
Both the Hercules and Namorita features are great illustrations of how to handle the single-feature format. They're quick, little stories that show some great characterization. However, in this case, I've got to hand the biggest kudos over to the Herc story since the Namorita tale seems to fall back upon the standard hero vs super-villains story element that wasn't needed to prove the point.
Finally, the front cover reminds me of those classic Silver Age, double-feature books like Tales of Suspense and Tales to Astonish. Gotta love nostalgia!
On Ebay: Marvel Comics Presents | Colossus | Man-Thing | Hercules | Namorita
On AtomicAvenue: Marvel Comics Presents | Colossus | Man-Thing | Machine Man | Hercules