With years spent reading single issues here and there, juggling storylines of dozens of titles, I decided it was time to find a better way to read comics. So, it was off to the back issue bins armed with the longest want list you've ever seen! Putting together series after series and reading them in their complete goodness, I was reborn as the Retro-Reader!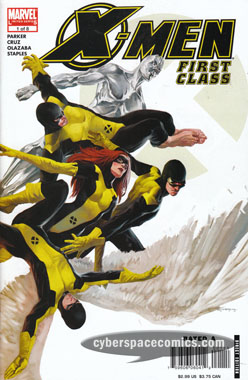 Publisher: Marvel Comics
Number of Issues: 8
First Issue: November 2006 ($2.99)
Last Issue: June 2007 ($2.99)
Writer: Jeff Parker
Artist: Roger Cruz
Cover Artist: Marko Djurdjevic
*Warning! Plot Spoilers Below*
This limited series is set within the confines of the continuity of the original X-Men series. All eight issues are one-and-done tales that take place between the first 66 issues began by Stan Lee and Jack Kirby (and later continued by other great creators including Neal Adams). We're given an inside look at the first team of X-Men (Angel, Beast, Cyclops, Iceman and Marvel Girl) as they're just learning how to use their powers and how to work together as a team. They're not yet angst-ridden and jaded against a world that hates and fears them just for being different. They're fun. They're new and they're having a good time. They're also in danger. Constantly. And, that's where the action comes in, as they're exposed to threats like the Lizard, Skrulls, Frost Giants and more!
The Bad: The only thing that's always a detriment to stories set within past stories is that there's no real believable element of danger because we already know that these characters will escape safe and sound.
The Good: Jeff Parker returns the fun to the X-Men that they've long been missing. The team is young and new to this whole world of action and adventure. They're a tight-knit group and they like to goof around with each other. Iceman fans will really enjoy this one, as he steals the scene quite often. Roger Cruz's dynamic artwork is complemented by the dynamic and bright coloring. It's a real pleasure to read and look at!
The Verdict: These stories are quick, fun, one-and-done reads that are nestled within the early years of already-laid X-Continuity. Parker is careful not to contradict any of the continuity and does a great job of using it to his benefit. The artwork is slick, colorful and dynamic. This series is a refreshing look back at these characters before they went through all the changes and heart-break they've experienced over the years.
And, if you've enjoyed this series, there's more where that came from! Aside from multiple specials, this series was promoted to an ongoing title that lasted for 16 issues and was then followed up with a four-issue mini-series that falls closer to the end of the original X-Men run. The concept proved so successful that other First Class titles later emerged and today, X-Men: First Class debuts on movie screens all over the country.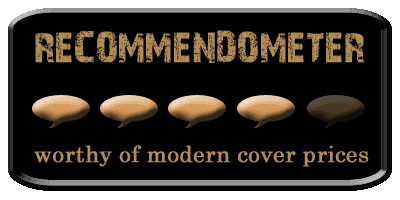 On Ebay: X-Men | Jeff Parker | First Class
On AtomicAvenue: X-Men | First Class