Marvel Comics Presents launched in 1988 as an ad-free anthology showcasing four eight-page features, stuffed inside a wrap-around cover. This guide will tell you everything you wanted to know about the series – and more!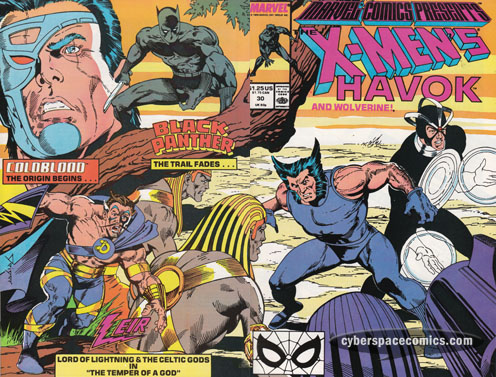 Cover Date: Late October 1989 | Cover Price: $1.25 | Cover Artist: Steve Geiger with Peter Craig Russell

Havok in "Pharaoh's Legacy" part 7
written by Howard Mackie
art by Rich Buckler




Havok and Wolverine invade the base of the Cult of the Living Pharaoh and come face to face with Plasma – who takes off her mask to reveal that she is Leila O'Toole!


Black Panther in "Panther's Quest" part 18
written by Don McGregor
art by Gene Colan




As Patrick Slade is held at knife-point by the South African soldier, Gore, he reflects upon how he discovered that the Black Panther's mother was still alive. Unfortunately for Slade, the Black Panther cannot react quickly enough to save him from the blade – now covered in his blood.


Coldblood in "Rise and Shine" part 5
written by Doug Moench
art by Paul Gulacy




Coldblood-7 finds sanctuary at a Las Vegas brothel while, back at the complex, Mako accuses Gina of helping Coldblood escape and subdues her. Given safety and time, Coldblood asks the computer to reveal his past to him. He learns that he is Eric Savin, a Lieutenant-Colonel in the U.S. Army and that the fake city he escaped from was a training ground for super-soldier cyborgs like him. The program was unwittingly funded by the U.S. Government for the mad scientist, Mako. And, the cyber-surgeon behind all of this was Gina Dyson – the woman who has now, in her guilt, given aid to Coldblood so he can shut the whole thing down.


Leir in "The Temper Of A God…"
written by Sue Flaxman
art by Tom Morgan



An intruder has disturbed the peaceful autumn morning on Avalon and it's up to Leir, the Celtic Lord of Lightning and God of the Spear, to dispatch the troll. Dagda, the God of the Druids, claims that the Fomorians sent the troll to test the Celtic gods. So, to teach them a lesson, Leir and Caber (the God of Bards) invade the Fomorians' camp. But, Dagda intervenes before Leir can kill the rival tribe. The Lord of Lightning, it seems, has a lot to learn about mercy.
On Ebay: Marvel Comics Presents | Havok | Black Panther | Coldblood
On AtomicAvenue: Marvel Comics Presents | Black Panther | Mutant X (aka Havok)