Marvel Comics Presents launched in 1988 as an ad-free anthology showcasing four eight-page features, stuffed inside a wrap-around cover. This guide will tell you everything you wanted to know about the series – and more!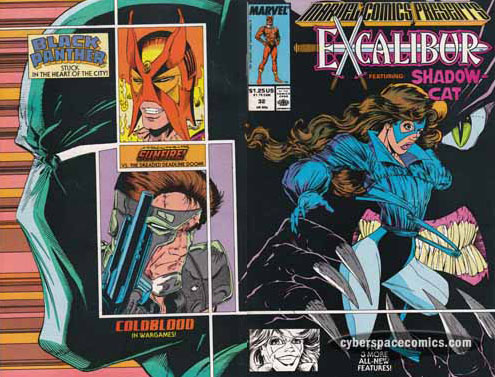 Cover Date: Late November 1989 | Cover Price: $1.25 | Cover Artist: Todd McFarlane

Excalibur in "Having A Wild Weekend" part 2
written by Michael Higgins
art by Erik Larsen



Back at their base, the Loonies release each member of Excalibur into their own cells. Within her quarters, Kitty Pryde finds herself up against Rochester (a monstrous version of Looney Tunes' Sylvester)! After defeating the big cat, she discovers he's a robotic automaton and uses her phasing powers to break free of her prison.


Black Panther in "Panther's Quest" part 20
written by Don McGregor
art by Gene Colan




The Black Panther makes his way to the city of Johannesburg, where he's stalking the mercenary, Strike (who delivered his mother's note to Sarah Slade). The panther attacks the man and, after defeating him, he tricks Strike into confirming that his boss is Anton Pretorius. Believing that Pretorius has his mother, he sets off to his home in Capetown.


Coldblood in "Rise and Shine" part 7
written by Doug Moench
art by Paul Gulacy



Coldblood-7 sets out to Mako's base with the intent of rescuing Gina and shut down his operation. Meanwhile, Mako is courting big money high-rollers who are interested in his cyborg program.


Sunfire in "the Dreaded Deadline Doom"
written by Scott Lobdell
art by Don Heck



Japan's most respected businessman, Kishi Oramosha, intends to incite a world disaster in order to force the nations of the world to work together and build a better future. But, as great as the end results may be, it's up to Sunfire to prevent him from unleashing his plan.
The Sunfire plot seems like an extremely watered-down version of Ozymandias' plan from Watchmen. I'd stick with Alan Moore's version … :-p But, hey! Look at that great, vintage McFarlane cover!
On Ebay: Marvel Comics Presents | Sunfire | Black Panther | Coldblood | Excalibur
On AtomicAvenue: Marvel Comics Presents | Black Panther | Excalibur