Because publishers want you to buy their product every month, comics are typically serial in nature. However, occasionally (and more often nowadays than ever before) publishers launch a comic title that is only meant to last for one issue. While ongoing series often have multiple chances to hook in new readers, the comics highlighted in this ongoing investigations only had One-Shot At Greatness!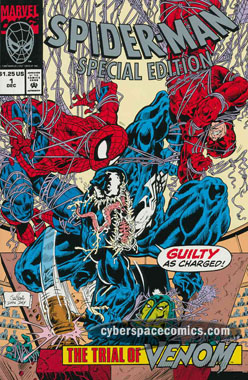 Publisher: Marvel Comics
Cover Date: November 1992
Cover Price: $1.25
Writer: Peter David
Artist: Jim Craig
*Warning! Plot Spoilers Below*
The Guardsmen at the Vault discover Eddie Brock separated from a lifeless symbiote in Venom's cell. It appears that Venom may be dead and gone – leaving Eddie Brock in the unique position to file an appeal. His lawyer, Matt Murdock (otherwise known as Daredevil), is out to make the case that Eddie Brock is a completely separate entity from that of the super-villain, Venom, and should therefore be found innocent of Venom's crimes. And, when the counsel calls upon its main eye witness, Spider-Man, will his testimony help procure Eddie's innocence? You can be sure that Spidey doesn't hope so!
Leave it to Peter David to come up with such a neat idea! He intricately weaves this Spider-Man/Daredevil/Venom story so well that any of the three could have had their name on the title and it would have been appropriate. Each character gets plenty of time to shine and each one is written in tune with their established personalities and convictions. This issue has a cover price of $1.25 but it was actually only available if you donated $5 (or more) to UNICEF. On top of the donation, you also got a nifty embossed cover and an in-bound poster! So, let's recap: great story, enhanced cover, poster and donation to UNICEF. How can you go wrong?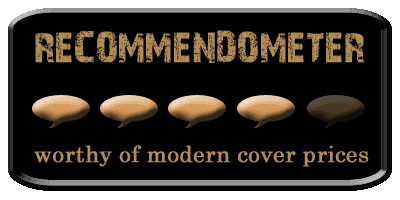 On Ebay: Spider-Man | Daredevil | Venom| Peter David
On AtomicAvenue: Spider-Man | Daredevil | Venom