Because publishers want you to buy their product every month, comics are typically serial in nature. However, occasionally (and more often nowadays than ever before) publishers launch a comic title that is only meant to last for one issue. While ongoing series often have multiple chances to hook in new readers, the comics highlighted in this ongoing investigations only had One-Shot At Greatness!
Publisher: Slave Labor Graphics
Cover Date: February 2000
Cover Price: $1.95
Writer: Eric Bowman (with help from Basilio Amaro and Dan Vado)
Artist: Eric Bowman
*Warning! Plot Spoilers Below*
On the way to visit his girlfriend, Clancy the Cylinderhead crashlands on Earth. But, it's not the Earth we know … it's the Earth of the future – ravaged and full of strange, mutated beings. He soon finds himself under attack from Doctor Kaiseroll's assassin, Pokey Pete. Fortunately, the cylinderhead is rescued by a female "fleshhead" (essentially a normal looking human … and this one's better than normal-looking!).
She explains to Clancy that Kaiseroll is searching Earth for lost journals that will allow him to find out how to mate with her and create the Master Race. That's right! Kaiseroll is following in the footsteps of the Fuhrer, himself. Now it's up to our reluctant hero and his cute rescuer to keep the journals (and her womb!) free from the evil doctor's clutches!
The quirky-looking cover sucked me right in. What a strange collection of characters! And there are even more to be seen inside the book. This one-shot is packed with plenty of story but moves along rather quickly. A tough balance to strike since there's so much that has to be explained on this strange, new Earth. Lots of weird lifeforms to be met. New locales to explore. Oh! And there's still a whole storyline that needs to be resolved, too. But, like I said, it manages to contain all of that and still be entertaining. Sure, the dialogue's a little cheesy and b-movie-ish at times but, it works well for this tale.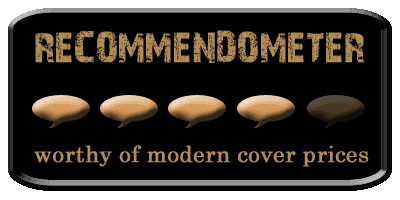 On Ebay: Cylinderhead
On AtomicAvenue: Cylinderhead