Because publishers want you to buy their product every month, comics are typically serial in nature. However, occasionally (and more often nowadays than ever before) publishers launch a comic title that is only meant to last for one issue. While ongoing series often have multiple chances to hook in new readers, the comics highlighted in this ongoing investigations only had One-Shot At Greatness!
Publisher: Marvel Comics
Cover Date: May 2011
Cover Price: $2.99
Writer: Brian Clevinger
Artist: Juan Doe
*Warning! Plot Spoilers Below*
Bobby and Warren are on spring break … in New York City … when Goom (the Thing From Planet X! Remember? from Tales of Suspense #15!) rises from the harbor and begins tearing through the Big Apple. Since there's only two of them going up against a Godzilla-sized monster, their only hope is to delay it long enough for the Fantastic Four or the Avengers to show up. After all, Iceman (a guy that shoots ice) and the Angel (a guy with wings and no other powers) can't stop the rampaging beast all by themselves … can they?
One of the fun parts of this "First Class" story is that Clevinger allows the characters to use dialogue that pokes fun at stories that will happen in their future. For example, there's this delightful bit of exchange:
Bobby: You're not really built for this kind of thing. Y'know what you need? Like, wings made outta knives!
Warren: That's the single stupidest thing I ever heard. What about my normal wings? Where do they go?
Bobby: They're still there too.
Warren: Bobby, I can't have both. Wings don't work like that.
A clear allusion to Warren's transformation into Archangel at the hands of Apocalypse. Aside from that, there's plenty of fun dialogue and the inclusion of a classic Marvel Monster makes for an enjoyable read. I'm really enjoying these "silver age" type stories told with the advantages of today's storytelling and art. Fans of the original X-books won't go wrong with this one.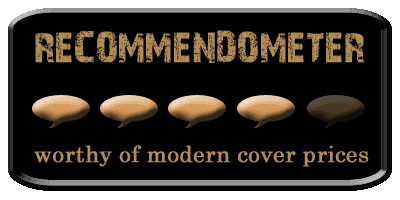 On Ebay: Iceman
On AtomicAvenue: Iceman