Marvel Comics Presents launched in 1988 as an ad-free anthology showcasing four eight-page features, stuffed inside a wrap-around cover. This guide will tell you everything you wanted to know about the series – and more!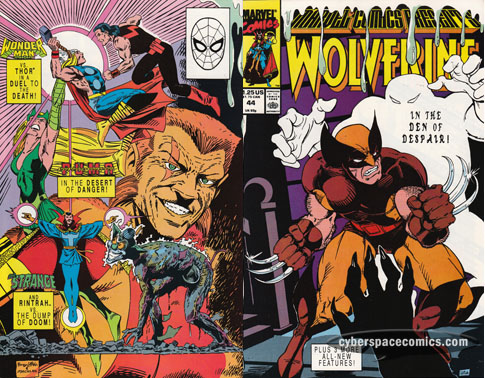 Cover Date: 1990 | Cover Price: $1.25 | Cover Artist: Bryan Hitch

Wolverine in "Black Shadow, White Shadow" part 7
written by Marv Wolfman
art by John Buscema



Wolverine enters the temple and finds his friends (Mai & Ch'un) chained up. White Shadow appears and recommends that Wolverine runs away – he can't stop Black Shadow forever, after all. But, the X-Man doesn't heed the warning and he explores the temple further. He discovers a morbidly obese native sitting on a throne, near motionless. Moments later, a portal opens in his chest and Black Shadow emerges to attack Wolverine.


Wonder Man in "Stardust Miseries" part 7
written by Michael Higgins
art by Javier Saltares



At Avengers Mansion, Captain America and Thor discover a badly beaten Beast. Meanwhile, the Enchantress has hooked up Ant-Man, the Wasp and Iron Man to her assimilation machine. She intends to drain them of their life forces and imbue them within Wonder Man, enhancing his powers to all-new levels! Cap and Thor attempt to come to the rescue but, they're bested by Wonder Man and the Enchantress – and then hooked into the machine, as well!


Dr. Strange in "Trashed"
written by Roy Thomas
art by Dave Simons



When Doctor Strange is called to a neighboring dimension by his amulet, his apprentice, Rintrah is left to help Wong with household chores – like taking the garbage out. Putting his newly learned spells to work, he animates the garbage to have it take itself out. But, since he's still new at this, the spell doesn't quite work as planned and ends up creating a garbage monster rampaging through Greenwich Village. Can he set things right before his master returns?


Puma in "… And Not A Drop To Drink"
written by Dan Mishkin
art by Gavin Curtis



Puma is faced with a lizard-monster that wants his family's sacred land. The lizard offers to teach Puma the ancient ways and the ability to transform reality if he will just give his land over. Can Puma deduce the reason the lizard wants the land and then satisfy both it and his family tribe?
This issue features early work by now-popular atist, Bryan Hitch. I haven't read many Doctor Strange stories but, I've always enjoyed the ones that feature Rintrah. This issue was no exception and the Doctor Strange story was easily my favorite of the four. But, that's only because it was truly a Rintrah story (not a Dr. Strange tale, as it was billed).
On Ebay: Marvel Comics Presents | Wolverine | Wonder Man | Doctor Strange | Puma
On AtomicAvenue: Marvel Comics Presents | Wolverine | Wonder Man | Doctor Strange