Marvel Comics Presents launched in 1988 as an ad-free anthology showcasing four eight-page features, stuffed inside a wrap-around cover. This guide will tell you everything you wanted to know about the series – and more!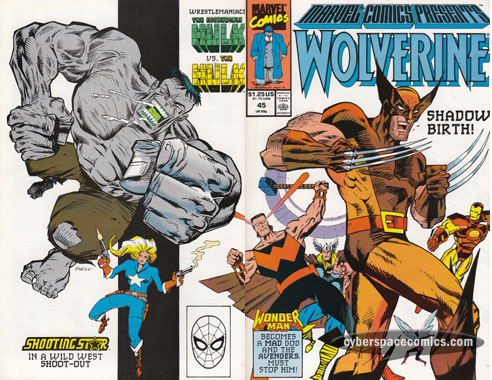 Cover Date: 1990 | Cover Price: $1.25 | Cover Artist: Kevin O'Neill

Wolverine in "Black Shadow, White Shadow" part 8
written by Marv Wolfman
art by John Buscema



Soon after Black Shadow emerged from the obese native's chest (and subsequently began attacking Wolverine), the White Shadow also entered the temple through the same portal as his polar opposite. White Shadow explains that both creatures are manifestations of the obese mutant – forever engaged in a conflict that must end with the other's death.


Wonder Man in "Stardust Miseries" conclusion
written by Michael Higgins
art by Javier Saltares



As the Enchantress' machine begins to suck the life energies out of the Wasp, Hank Pym, Thor, Iron Man and Captain America, it transfers their power to Wonder Man. But, his newfound strength creates an awareness that breaks the Enchantress' spell over him. Wielding Mjolnir (the hammer of Thor!), he defeats the villainness and frees his fellow Avengers before they are completely drained!


Hulk in "the Main Event"
written by Peter David
art by Herb Trimpe



The Incredible Hulk challenges Hulk Hogan – the winner gets to keep the name "Hulk"!


Shooting Star in "Bang Bang, Shoot Shoot"
written by Robert Campanella
art by Jose Delbo



At a county fair in Texas, a carnival sharp shooter named Black Billy challenges Shooting Star (of the Rangers, Texas' very own super-hero team) to a shoot out. But, when she bests him, he doesn't take it too well – and he kidnaps a bus full of little girls to lure her into a trap. Now, Shooting Star will have to summon up her sharp-shooting skills to take out Billy's gang and free the children.
After a number of mediocre issues, this one reminds me of the fun this series can be. In a quick story by Peter David, the Incredible Hulk takes on Hulk Hogan! I'm sure this was the fodder for fan fiction and speculation for years – but it's fun to see it acknowledged in continuity. After all, the Incredible Hulk debuted in 1963 – Hulk Hogan in 1977. So, if it's a question of "Who Came First?" then the Green Goliath takes the cake. This issue answers the question: "Who's the strongest?" And, as if that wasn't neat enough – Wonder Man wields the hammer of Thor in this issue. A feat that has not been accomplished by most of Marvel's characters (aside from Captain America and a few others).
On Ebay: Marvel Comics Presents | Wolverine | Wonder Man | Shooting Star | Hulk
On AtomicAvenue: Marvel Comics Presents | Wolverine | Wonder Man | Hulk