Because publishers want you to buy their product every month, comics are typically serial in nature. However, occasionally (and more often nowadays than ever before) publishers launch a comic title that is only meant to last for one issue. While ongoing series often have multiple chances to hook in new readers, the comics highlighted in this ongoing investigations only had One-Shot At Greatness!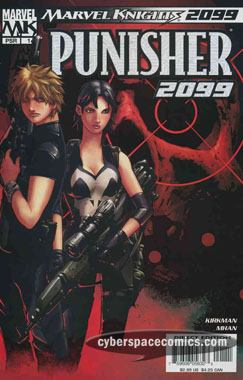 Publisher: Marvel Comics
Cover Date: November 2004
Cover Price: $2.99
Writer: Robert Kirkman
Artist: Pop Mhan
This is one of several one-shots that envisions what the Marvel Knights relaunches would have been like if they were published in 2099. In this future version of the Marvel Universe, the government re-enacted the Mutant Registration Act. The super-heroes joined together to defy the government but were eventually overpowered and went underground.
*Warning! Plot Spoilers Below*
Cassandra Natchios (the daughter of Elektra and the Punisher) has followed in her father's footsteps by continuing his war on organized crime as the Punisher. Up until now, she's kept this hidden from her son, Franklin, but now that she's been diagnosed with cancer, Cassandra decides that he has to continue the family legacy. So, she takes him with her on her hunts. He's right there with her, learning how to shoot, who to shoot, what to blow up – but he's conflicted. He just doesn't seem to be into it. He feels that he doesn't have the heart to continue this war by becoming a ruthless killer. But, when his mother finally passes away, will this trigger a change of heart or will the Punisher legacy die with her?
The concept of a "legacy" hero has been around in comics for a long time. Green Lantern. The Flash. Even Batman & Superman have their proteges. Here, Robert Kirkman introduces the concept to the Punisher – which is kind of a strange fit since his war on crime was so personal because the mob killed his family. It's kind of hard to pass that passion on to someone else who wasn't as severly affected by crime. And, that's kind of the concept the Kirkman runs with here. Franklin understands that there are bad people out there – but he doesn't feel strongly enough about it to go around killing them for it. It's a neat way to approach the concept and because of its "finite-ness", I'm not left wanting any more. But, in this case, it's not necessarily a bad thing.
If you came into this thinking you were getting a comic about the real Punisher 2099 (aka Jake Gallows) – then you got punked!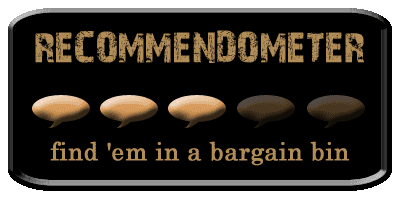 On Ebay: Punisher | Robert Kirkman
On AtomicAvenue: Punisher